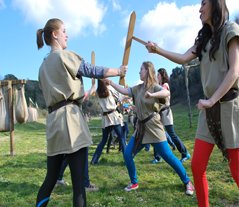 If you are thinking about a family vacation to Italy, you may worry that your younger children will be bored with the many museums, churches, ancient ruins and culture that you would like to explore throughout this beautiful country. But there are also some interesting and educational sights that your kids will think are just plain fun.
For instance, you may visit Venice and while your kids will love to ride in the gondolas, they might not be too intrigued with the history of Venetian masks. They may, however, enjoy taking a class where they make their own papier-mache masks, adding feathers, sequins and other decorations, while finding out more about their significance.
Or, when in Rome, do as the Romans do, which in historical times meant becoming a gladiator. Your kids will dress in traditional gladiator tunic, belt and protective gear and learn the techniques used by Roman warriors. They can also display their new -found talents by participating in a reenactment that the whole family will enjoy.
Travelling to Tuscany, you may want to stop in the village of Collodi, a medieval place with winding streets. Your kids will be excited to know it is also called "Pinocchio's town", as it is the place where Carlo Lorenzini (working under the pen name of Collodi) wrote The Adventures of Pinocchio. As the story goes, Carlo was raised in the town had many wonderful memories of it, which he wrote about.  On the Piazza Ubaldo Ciomei is the Pinocchio Store, where your kids can find a wide variety of souvenirs to bring home. There is also Pinocchio Park, which is filled with statues of the famous wooden boy and has amusements for the whole family.
Another Tuscany landmark is the "Sword in the Stone" which is located outside of Siena in San Galgano. There, your kids will find a sword that seemingly has been thrust into a large boulder.  It certainly looks like a 12th Century sword and the legends around it are the inspiration for the stories of King Arthur.
And speaking of kings (and queens),  there are so many castles for your kids to explore that will spark their imaginations as they can envision being a knight protecting the village from attack, or a princess walking through the grand halls or winding staircases.
Add to all of this the Renaissance festivals, where townspeople dress in medieval costumes and entertain with song, dance, games and food.  These festivals are held throughout Italy all year long in many locations. Add to all that the proliferation of an authentic pizzeria that serves truly Italian pizza and your kids will have plenty of great memories of their trip. And so will you!