Piedmont - Travel Guide
---
Located in Northwest Italy, bordering France and Switzerland, Piedmont is a region of Italy that features much of what makes Italy such a highly desired place, including history, landscape views, delicious cuisine, and gives it an elegant and regal spin. Known for its royal past, Piedmont exhibits a finer taste in food and wine and boasts ancient, elegant castles reminiscent of the days in which Italy's ruling dynasty called the region's capital, Turin, home. The people of Piedmont are as kind and gentle as the breezes that blow through the region's many valleys, welcoming guests to experience everything their home has to offer. With expansive vineyards, stunning mountain ranges, and an opulent history, Piedmont sets itself apart from other regions of Italy.
Geography & Climate
A close runner up behind Sicily, Piedmont is Italy's second largest region, spanning approximately 25,000 square kilometers (nearly 10,000 square miles). The sheer size of the region allows for a wide range of geography, from tall mountains and rolling hills to sloping valleys and rushing rivers. These geographical wonders make Piedmont a place for beautiful views and picturesque scenery at every turn.
The origin of Piedmont's name, in Latin, means "at the foot of the mountains." This is a fitting title given that nearly 50% of the region is characterized by mountainous geography. Sharing its Western border with France and its Northern border with Switzerland, three sides of Piedmont are surrounded by the Alps, Europe's most extensive mountain range. Running beneath the Alps underneath the Col du Fréjus mountain is a very important tunnel, the Fréjus road tunnel. This traffic tunnel, which runs 13 kilometers long, connects France and Italy and serves as an essential route for commercial transport.
Divided into five subcategories—Alpi Marittime, Alpi Cozie, Alpi Graie, Alpi Pennine, and Alpi Lepontine—the Piedmont Alps vary throughout the region in terms of their characteristics. Thanks to this famous and impressive mountain range, some of Europe's highest mountains call Piedmont home, including Mt. Rosa, the second highest peak in all of Italy. The mountainous areas of the region make it a great destination for skiers, hikers, and climbers to experience the wonder of the Italian Alps. For less athletic travelers, riding any of Piedmont's many cable cars is a great way to ascend to the summits and take a view of Italy from great heights.
These high mountain peaks also mean an ample number of low valleys and natural rivers which run through them. Well-known valleys such as Val Di Susa, Valsesia, and Val D'Ossola offer visitors splendid views.
As a crossing site and source for the river Po, Italy's longest river, Piedmont's lands are fertile and lush, making it the ideal place for wildlife, agriculture, and vineyards to thrive. In fact, some hail Piedmont as one of the most important locations for wine production in the world, no doubt thanks to the ideal agricultural conditions of the nutrient-rich ground.
In addition to the Po, Piedmont is home to many other important rivers and lakes. Rivers like Dora Baltea, Dora Riparia, and Tanaro all run through Piedmont, and lakes such as Lake Orta and Lake Viverone help to shape the geography of the region. The most iconic lake in Piedmont, however, is Lake Maggiore. This massive blue lake is home to the Borromee islands, a gorgeous travel destination that was called "the most beautiful place in the world" by French philosopher Montesquieu.
Other notable features of Piedmont's geography include the wine production areas of Langhe, Roero, and Monferrato. They became designated UNESCO World Heritage sites in 2014 thanks to their representation and living testimony to the winemaking traditions that are of such great importance to the Italian culture of both the past and the present. These stretches of land provide a great example of the richness of Piedmont's land and culture.
For much of the region, the climate in Piedmont is temperate. However, the closer one approaches the Piedmont Alps, the colder the temperature will become. One of the most defining characteristics of the region is the frequent presence of fog throughout Piedmont's many valleys and sloping mountainsides, which is perfect against the image of the region's many ancient castles and beautiful rolling vineyards.
When in Piedmont
Along with the wide range of beautiful geography offered in Piedmont, there is also an array of exciting and fun activities to enjoy in the region. Like other regions of Italy, Piedmont's beauty lies in its scenic views, the depth of its culture, and the richness of its history.
One cannot visit Piedmont without taking advantage of the expansive Italian Alps. For skiers and snowboarders, there is nothing quite like experiencing the slopes of Piedmont's famed ski resorts and towns. Sestriere is a rugged alpine skiing village whose panoramic views are rivaled only by its quality snow sports. Another important location for skiing is the Via Lattea area, located in Turin. It was home to the Olympic Winter Games in 2006 and includes the slopes of Sauze d'Oulx and Montegenvre. With nearly 400 kilometers of ski slopes and over 60 ski lifts available, this is the location of many of Europe's largest and most important winter sports competitions.
During autumn, no experience is more wonderful than exploring the Langhe, Roero, and Monferrato area. Not only home to some of Piedmont's most exquisite landscape views, these UNESCO world heritage sites are the locations of traditional and well-renowned winemaking. During the Fall, the vineyards are enveloped in thick fog, creating a portrait worthy view. Graced with medieval castles and traditional autumnal colors, this area of Piedmont feels as if it were plucked right out of an ancient storybook.
For lovers of great cuisine, the food of Piedmont is a step above the other regional cuisines throughout Italy. Whereas Tuscan food is rustic and Sicilian food is multicultural, the food of Piedmont can best be described as regal. This is thanks to the royal background of the region, as well as the high-quality ingredients that are available locally. From luscious cheeses and decadent wines to rare truffles and earthy mushrooms, the food of Piedmont is luxurious yet delicate. Each meal enjoyed throughout the region is reflective of Piedmont's historic traditions and gourmet sensibilities.
For an experience truly reminiscent of the royal history of Piedmont, visitors can explore Lake Maggiore and the surrounding areas. Home to the Borromee islands and such famed cities as Stresa, Arona, and Cannobia, the area and shores of Lake Maggiore boast gorgeous resorts, palaces, gardens, and opulence once reserved only for the wealthy.
As with any region of Italy, history and religion are cornerstones of the Piedmont culture and a source of enlightening activities. Turin, the capital of Piedmont, once served as the home of the Royal House of Savoy, a dynasty that ruled Italy from 1861 to 1946. Historic locations throughout Turin, such as the Royal Palace, the Carignano Palace, the Valentino Castle and the Madama Palace hold remnants of this legendary dynasty and reveal the royal heritage and history of the region.
Religious experiences can also be had throughout Piedmont. The Holy Shroud, preserved in Turin, is one of Italy's most important religious sites. This religious relic, a 53-foot-long piece of linen, is believed to be the burial garment of Jesus Christ. In addition to this iconic religious piece, Piedmont is also home to the Sacri Monti (Sacred Mountains), nine complexes of chapels and other architectural feats that are integrated into the regions natural landscape. Recognized as an UNESCO world heritage site, the Sacri Monti between Piedmont and Lombardy are an exceptional representation of the Christian faith.
This magnificent region promises a wealth of historic locations, stunning geography, and exciting activities to enjoy.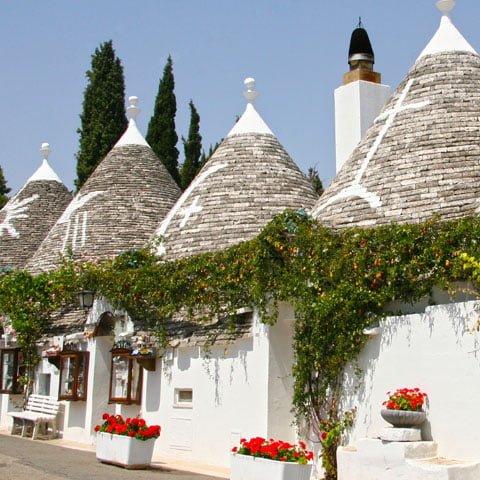 "Ciao Tommaso and Giulia, we have a wonderful trip. From Alberobello, Pade Pio, Monte S.Angelo, Sorrento, Capri, Amalfi, Ravello and more to see and do, you have plan everything."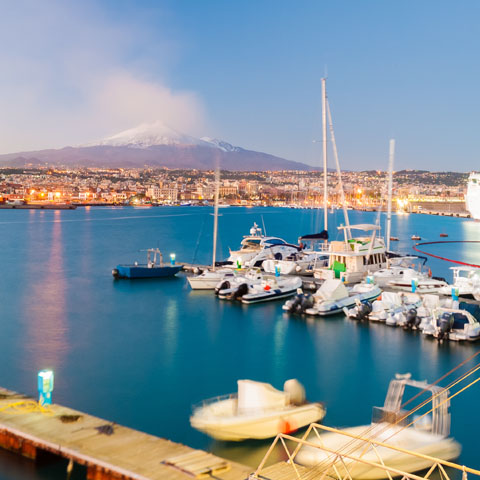 Dear Ana and Tommasso, We want to thank you for the wonderful customized trip to Sicily. It was a trip of a lifetime and a dream come true. Everything about the trip was perfect, including having Tommasso along with us. This was definitely a trip we will never forget.....it was perfect. TRIPS2ITALY is great and we would definitely recommend your agency to anyone wanting to see beautiful Italy and Sicily.