Italy's 20 regions span thousands of miles, are comprised of a variety of geography, and reflect centuries of culture and history. It is no wonder why the country and its timeless, spectacular cities serve as some of the most popular travel destinations in the world.
Campania
Located in Southern Italy, this region is heralded for cities boasting stunning coastlines, rich history, and delicious cuisine.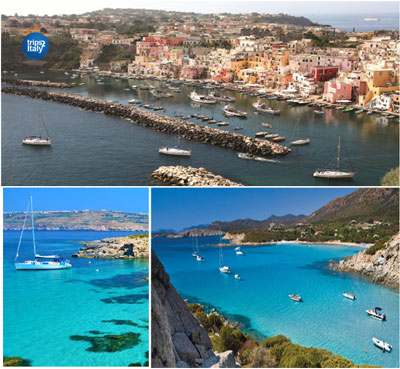 The Isle of Capri, located in the Bay of Naples, is an enchanting island that has attracted Roman Emperors, celebrities, and royalty for centuries. Popular sites include Capri's sapphire Blue Grotto, the striking Faraglioni (rock formations), and the ancient Roman palace Villa Jovis.
Featuring one of Europe's largest historic centers, Naples is a city teeming with a rich history that heavily influences its bustling modern culture. Known for being the birthplace of pizza, Naples is the perfect place to enjoy street food and coffee while people watching and taking in the city's rich history.
An UNESCO world heritage site and one of the most important archeological sites in Italy, the ruins of Pompeii reflect a civilization that was perfectly preserved in the eruption of Mt. Vesuvius in 79 AD. Explore the site with a tour guide during a day trip away from the Amalfi Coast or Rome.
The Amalfi Coast is a world-renowned coastal resort which offers stunning sea views and an elegant vacation experience. Sorrento – one of the major cities in the area – is a great base destination to visit the coast's many towns. Activities include exploring the cities and enjoying the beaches, water, cuisine, and architecture that's made this area so irresistible.
Emilia Romagna
Located between the Po River and the Apennine mountains, Emilia Romagna is a region with cities offering fertile landscape, rich culture, vast history, and amazing cuisine.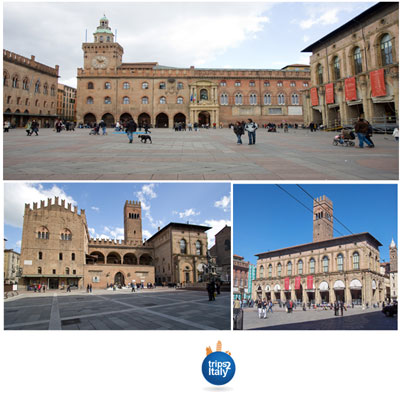 A cultural, motorsport, and culinary capital of Italy, Bologna offers a variety of unique experiences. Enjoy the city's famous foods – pastas, salami, mortadella ham – during food tours and cooking classes, photograph the Towers of the Asinelli, and visit the Lamborghini, Maserati, and Ducati headquarters.
Ideal for nature and art enthusiasts, Ferrara is a hub of Renaissance history – so much so that it earned UNESCO World Heritage Site status due to its exemplary historic center. Activities include touring the city, enjoying the local cuisine and wine, and exploring the area by foot or bike.
Known worldwide for its production of the highest quality Balsamic vinegar, Modena is a culinary capital of Italy. After enjoying wine or vinegar tastings and a plate of tortellini, explore the historic center which is filled with artistic treasures. Modena is also known for the legendary Ferrari sports car – which travelers can test drive.
Foodies delight in food tours which highlight Parma's popular culinary staples – melt-in-your-mouth prosciutto di Parma and flavorful Parmigiano Reggiano cheese. But food is not all Parma has to offer. Travelers can tour the historic city center and enjoy the city's many churches and works of art.
Home to 8 UNESCO World Heritage Sites, Ravenna is a vibrant, historic city. Best experienced by foot, travelers can enjoy the beauty of the city and take in the rich history which is written all over the streets. A must-see is its collection of outstanding Byzantine mosaics.
Lombardy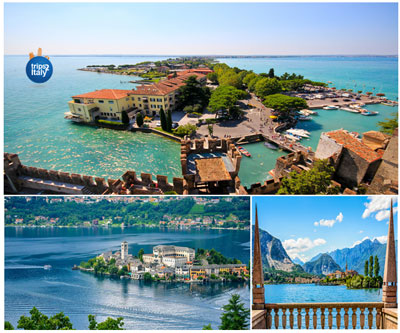 Home to a stunning Lake District and Italy's fashion capital, Milan, Lombardy is a region known for its scenic views, rich history, and modern sensibilities.
A city brimming with art and architecture, Bergamo is known for the unique fusion of its hilltop historic center – Città Alta – filled with medieval streets and architecture and its lower, more modern town – Città Bassa.
Lesser known but no less spectacular than the Italian Lake District, Mantua is a charming and serene city featuring elegant palaces and a historic atmosphere. Activities to enjoy include guided tours and daring culinary experiences, including stracotto di asino (donkey stew).
The world's fashion capital and a hub for international business and affairs, Milan is a city that melds traditional Italian history, art, and architecture with modern vivacity. Travelers can sightsee landmarks such as the Gothic Duomo, Grand Galleria Vittorio Emanuele II, and Teatro alla Scala before shopping designer boutiques or enjoying an aperitivo.
Stretching across Northern Italy, the Italian Lake District is a multi-regional area that features some of Italy's greatest lakeside cities.
Arguably Italy's most popular lake town, Como is heralded for its stunning views, water activities, and historic center. From exploring the city's Cathedral to enjoying views of the surrounding mountains, travelers will enjoy Como as a destination on its own, as well as a hub from which to visit nearby towns of Varenna and Bellagio.
Along with being Italy's largest lake with panoramic views, Lake Garda is an area of charming lakeside towns, incredible boating and sailing, and great hiking. It is also a wonderful family destination, as Lake Garda is home to the most theme and amusement parks in Italy.
The second largest lake in Italy, Lake Maggiore is known for its stunning villas, noble palaces, and unique archipelago – the Borromee Islands. Local activities include water sports, sightseeing on the islands, and enjoying the incredible views.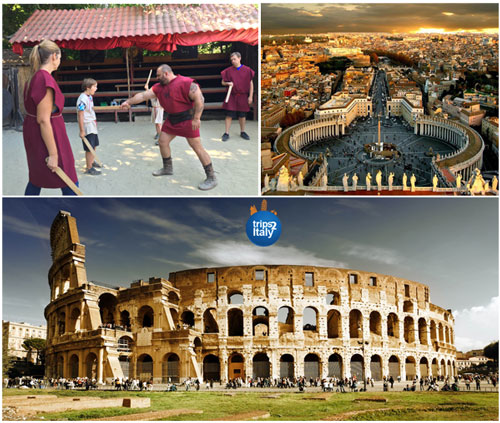 Italy's third most populous region, Lazio is best known for its main attraction – Rome. In addition to the Eternal City, Lazio features hills, mountains, lakes, and an incredible cuisine and wine culture.
As the center of the world's greatest empire and the unquestionable hub of Italian tourism, Rome is a must-see for first-time travelers, as it is home to some of Italy's greatest landmarks, including:
The Pantheon
The Roman Colosseum
Trevi Fountain
Spanish Steps
Along with incredible sightseeing, Rome offers ample culture in the form of art, architecture, and culinary delights. Popular activities to enjoy in Rome are guided tours of must-see attractions, hands-on cooking classes, browsing museum galleries, and simply exploring the great city on foot while enjoying a coffee or gelato.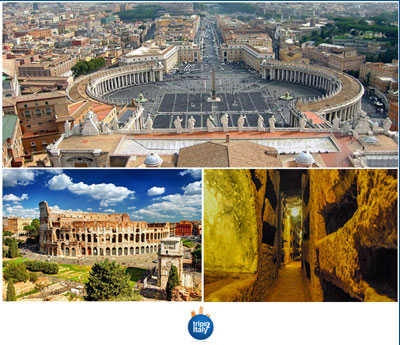 Millions of tourists travel to Rome specifically each year to visit Vatican City – home of the Pope and the heart of the Roman Catholic Church. This city-state is the smallest in the world, but offers a wealth of religious experiences as well as incredible art and architecture for travelers of all faiths.
Ancient Roman Sites
In addition to famous sites such as the Colosseum and Pantheon, Rome is home to a variety of archeological sites that reflect the ancient history of The Eternal City's famous empire. From the Baths of Caracalla to the Imperial and Roman Forums, history is abound at every turn in Rome.
Liguria
Comprised of 5 fishing villages, Cinque Terre is a designated UNESCO World Heritage Site, National Park, and Protected Marine Area, making it one of the Mediterranean's best preserved natural areas. Travelers will enjoy the area's unbelievable scenery, local culinary specialties (seafood, pesto, focaccia), and charming local culture.
As Italy's main commercial seaport, Genoa is bursting with a history and culture that was cultivated over centuries. Bursting with Romanesque and Baroque architecture, historic monuments, and a variety of museums, travelers to Genoa can enjoy guided tours. Afterward, indulge in local authentic Pesto Genovese, which began here.
Known for being a popular hot spot for the rich and famous, Portofino is a coastal village that encapsulates luxury. From the city's yacht-filled marina to the designer boutiques, travelers will feel like celebrities while they visit the local architectural sites and enjoy the Piazzetta – the square overlooking the famous harbor.
Sicily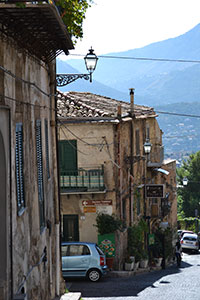 A multi-cultural region, Sicily's cities are known for their extraordinary geography, history, cuisine, and culture.
Known as the "Seven Pearls of the Mediterranean," the Aeolian Islands are an archipelago located off the Northeast coast of Sicily. The seven islands include:
Vulcano
Lipari
Salina
Panarea
Stromboli
Filicudi
Alicudi
Together, these islands create a secluded paradise, perfect for off-the-beaten-path beach vacations filled with relaxation and immersion into nature. Popular activities include scuba diving, snorkeling, enjoying natural views, and dining on fresh, local seafood.
Agrigento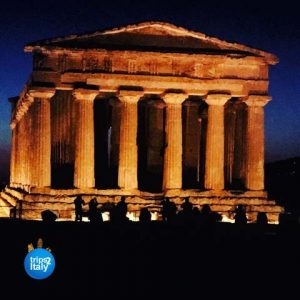 Most well-known for its famous Greek ruins, the Valley of the Temples, Agrigento is perfect for a day trip when visiting Sicily. Travelers can explore the archeological site with a guide.
One of the ten biggest cities in Italy and the 2nd largest in Sicily, Catania is located at the base of Mt. Etna. Travelers to the city enjoy the rich Baroque architecture, museums, hiking, and beach activities.
The heart of Sicily, Palermo is a lively city featuring historic markets and a unique culture. Guided tours of the city help travelers to understand the various cultural influences throughout the city. Other activities to enjoy include tasting local culinary specialties, strolling the city, or relaxing on the beach.
A fascinating city and UNESCO World Heritage City, Ragusa is a major capital of Baroque architecture. Once split into two cities – Upper and Lower Ragusa – and then merged as one, Ragusa fuses historical architecture with elegant palazzos. Travelers should explore the historic center and taste the local cuisine.
Taormina is a city renowned for its beautiful natural landscape, stunning sea vistas, and ancient architecture. With views of Mount Etna and the Ionian coast as well as amazing beaches, it is one of Sicily's most popular Summer vacation spots. Travelers to the city can take in the rich history at sites like the ancient Roman-Greek Amphitheater, snap photos of the panoramic views, and stroll the city's streets.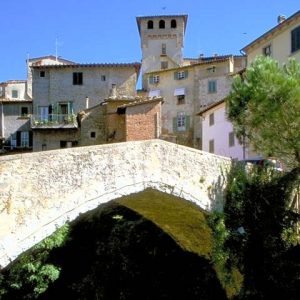 Often called the "City of Gold" due to its thriving jewelry and goldsmith industries, Arezzo features an incredible city center for which the city is most known for. Travelers can enjoy the history of the city square, delight in local food and wine tastings, and shop at the city's monthly antiques market.
One of the main cities in the Val di Chiana region of Tuscany, Cortona is a major tourist destination known for its museums, vineyards, cafes, cuisine, and farmhouses. Famous for being the setting of the film, "Under the Tuscan Sun," Cortona captures the unique, charming atmosphere of classic Tuscany.
Uniquely hidden behind 16th century walls, Lucca is a medieval treasure of Tuscany. Featuring preserved Romanesque architecture, cobblestone streets, and historic cafes, grocery stores, and pastry shops, Lucca is the ideal place to explore on foot or by bike.
Most well-known for the production of its famous red wine – Brunello di Montalcino – this medieval hilltop village maintains old-time charm through its local lifestyle, festivals, and sites. Activities to enjoy include wine tastings, sightseeing medieval castles, and attending local medieval festivals which celebrate local traditions.
A stunning town perched on a high hill, overlooking the olive groves and vineyards of the Tuscan countryside, Montepulciano is an area known for fabulous wine, treasured artistic works, and prized architecture. Itineraries here should include wine tours and tastings, time to explore the medieval town center, and plans to dine on local cuisine.
Pisa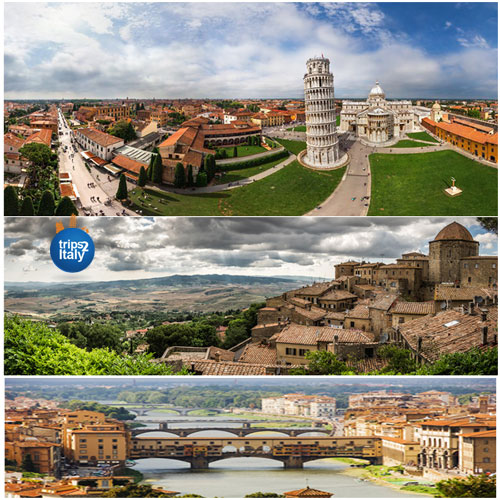 Home to the iconic Leaning Tower and Square of Miracles, Pisa is a fantastic place for sightseeing. In addition to the tower, visitors will enjoy the Duomo and Baptistery as well as the city center, which features the Piazza dei Cavalieri.
Though a small town, San Gimignano is a famous one, popular for its unique "skyline" of tall medieval towers and its stunning countryside views. Perfectly capturing the spirit and atmosphere of medieval Italy, this town features narrow, cobblestone streets and high walls. Travelers can enjoy the historic center, dine on local culinary specialties like Florentine Steak, and enjoy the Tuscan views.
Most popular for its famous horserace – the Palio di Siena – and its striking Duomo, this medieval city boasts history, art, and architecture at every turn. Popular activities include guided tours of the historic center, hands-on cooking classes, and day excursions to nearby countryside wineries.
Known as the city of alabaster, Volterra is a unique, walled, hilltop town filled with Roman, Etruscan, medieval, and Renaissance art. Its magnificent vistas offer views of farmlands and mountains while its churches, palaces, and museums offer cultural enrichment.
The "Cradle of the Renaissance" and the jewel of Tuscany, Florence is one of Italy's most historic and highly-traveled cities. Some of the most popular landmarks include:
Florence Cathedral
The Baptistery
Palazzo Vecchio
Ponte Vecchio
Travelers can take guided tours of some of these once-in-a-lifetime locales before shopping for artisanal products like paper, gold jewelry, and leather and exploring the city for tastes of the local cuisine. The city is known for its Florentine Steak, fine Tuscan wines, and unique dishes like wild boar ragu. Along with being a fantastic city for sightseeing and cultural experiences, Florence is home to some of Italy's – and the world's – greatest museums.
Museums
As the birthplace of the Renaissance art movement, Florence is home to countless museums – all displaying incredible works of art from some of the world's greatest artists. The most popular museums include the Accademia – home to Michelangelo's statue of David – and the Uffizi Gallery – featuring masterpieces by Botticelli, da Vinci, Giotto, Michelangelo, and more.
Umbria
A lesser-traveled region of Italy, Umbria's cities offer travelers outdoor activities, landscape views, great cuisine, and a rich history.
The birthplace and burial location of the beloved St. Francis, Assisi has been a pilgrimage site for many years. Travelers of faith and those interested in history will enjoy visiting the Basilica of St. Francis, which is dedicated to him, the historic medieval center, and the unique frescoes by Giotto depicting St. Francis' life.
This unique town in Central Italy features preserved medieval streets and a rugged mountain setting. Known for its culture, the best activities to enjoy here are centered around local traditions such as shopping for pottery and ceramics and attending festivals which celebrate local folklore.
Located between Rome and Florence – making it the ideal destination to stop and enjoy the Umbrian countryside – Orvieto is a unique city perched on a cliff. Much like its unique complex of hidden, underground tunnels, there is much more to Orvieto than meets the eye. Activities there include touring the t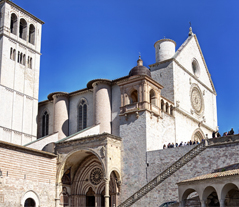 unnels, exploring the historic center, and enjoying local culinary offerings.
Heralded for its incredible chocolate and historic jazz festival, Perugia is a cosmopolitan city that fuses modern life with a vast history. Boasting rustic, medieval streets, architecture, and monuments, but also a bustling university and happening art scene, travelers have a lot of choices for activities. From enjoying museums, strolling the city, and enjoying the nightlife, there's no doubt why Perugia is Umbria's capital.
Veneto
Veneto is a romantic region of Italy located in the Northeast known for its most popular destination – Venice – as well as the Dolomite Mountains and Adriatic Sea, which bookends its borders.
Padua is a mixture of art, culture, tradition, and intellectualism. Known for its historic university, Padua is one of the main cities for Italian learning. Travelers to this city should explore the historic center with a guide, sightsee at the Scrovegni Chapel, and visit the historic Caffe Pedrocchi.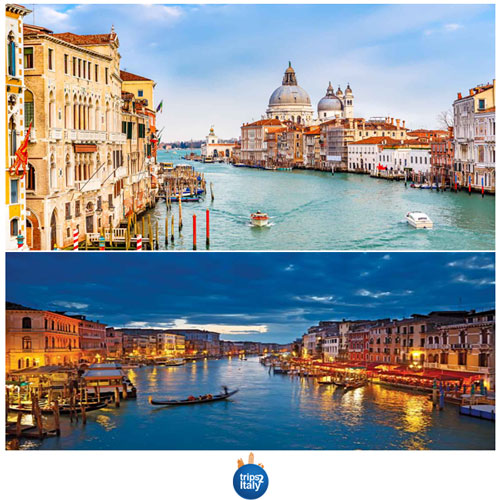 Perfect to visit via a day cruise from Venice or Padua, the Riviera del Brenta is an area renowned for its stunning Venetian Villas. Built in the 16th century by the nobles of the Venetian Republic, villas such as Villa Pisani and Villa Foscari are magnificent architectural, artistic, and cultural sites to see.
Known as the "Floating City" due to its unique foundation on the water, Venice is a city known for art, architecture, history, and romance. Travelers to Venice can take a gondola ride, explore the incredible St. Mark's Square, admire classic Venetian architecture, tour the local landmarks, and shop for Murano glass, a local specialty.
Most famous for being the city of Shakespeare's "Romeo and Juliet," Verona is a city that boasts medieval ruins, historical locales – such as Juliet's famous balcony, and incredible culture. Travelers can take guided tours, take in an Opera at the Roman Arena, or explore local churches and squares.
Celebrated worldwide for its gorgeous and varied architecture, Vicenza is a city with elegant shops, palaces and villas, as well as a beautiful backdrop of mountains. Visitors can enjoy exploring the unique, Palladian architecture of the city or enjoy outdoor activities such as golf, horseback riding, or tennis.
Other Regions and Cities of Italy
Located in the Apulia region, this city is known for its unique architectural feature of trulli, which are white, cone-shaped buildings. Travelers can also enjoy the nearby beaches, city center, and delicious local cuisine.
Known as the Florence of the South, Lecce is located in Apulia and features incredible beaches, distinctive architecture, and fascinating Greek roots. Visitors can explore the city center, enjoy the crystal beaches, and enjoy wonderful food.
The capital of the Trentino Alto Adige region in Northern Italy, Bolzano is a city known for its museums, unique European and Mediterranean culture, and ski parks. Ideal for visiting during the holidays, the city hosts charming Christmas markets throughout December, made more perfect by the Alpine atmosphere of the city.
World famous for the city's unique sassi – a district of houses carved completely into rocks – Matera is a location in Basilicata filled with history. Travelers can even stay in boutique hotels within the caves.
Known as the culinary capital of Italy, Piedmont offers travelers the opportunity to taste some of Italy's greatest foods in a setting that is as elegant as it is gorgeous.
The capital of the Langhe area, Alba is ideal for foodies looking to take food and wine tours, explore the countryside, and enjoy the rare white truffle.
Perfect for wine lovers, Asti is famous for its production of wines and liqueurs – including the elegant Barolo, sweet Moscato, and bubbly Asti Spumanti.
Often called the "royal city" of Italy, Turn is a popular destination in Piedmont thanks to its rich history, beautiful scenery, and vast attractions and activities, particularly in industry and arts. Key activities include touring the FIAT factory, viewing the Holy Shroud of Christ, and enjoying the city's incredible historic center and delectable cuisine.