Bollito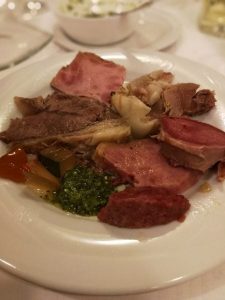 Bollito is a dish prevalent in the northern part of Italy especially in the regions of Lombardy and Piedmont. It typically consists of a variety of meats, usually tougher cuts of beef or veal, that are gently boiled for about 3 hours in a broth made from vegetables and herbs. The result is tender, flavorful meat in rich, delicious broth. A good bollito requires plenty of time to cook, fresh herbs, and carefully selected meats. Bollito can be served on its own or paired with boiled vegetables, homemade sauces, or mostarda (candied fruit in a mustard-based syrup). In Piedmont, ``bollito misto`` is prevalent, which features hen and cotechino (pork sausage) in addition to beef and veal. This simple and hearty dish is a classic winter staple for many Italian families and an emblem of Italian home-cooking.

Prep Time

15 min

Cook Time

3 hr

Total Time

3 hr 15 min
Ingredients
Ingredients
2 ¼ lbs. beef (ideal cuts for this recipe include: fore shank, short ribs, brisket, bottom sirloin, chuck steak, flank steak, or round steak)
1 carrot
3 bay leaves
15 grams kosher salt
1 onion
1 bunch of parsley
3 cloves
2 celery stalks
1 sprig of thyme
4 whole black peppercorns
Preparation
1
Tie the meat with kitchen twine (any of the cuts listed above can be used in this recipe). Fill a tall pot with water and place over medium heat. Peel the onion and stick the three cloves into the onion. Peel the carrot and cut it into pieces that are about 1 inch in length. Tie the bay leaves, parsley, and thyme together using kitchen twine. Place the onion, carrot, celery, and herbs in the water.
2
Once the water is boiling, add the salt and the meat. It is very important that the meat is immersed in the water only after it has started to boil consistently, not a moment before.
3
After a few minutes, foam will begin to gather on the surface of the water. Remove all of the foam with a skimmer and then add the black peppercorns to the pot. Reduce the heat to low.
4
Cook for about 3 hours ensuring that the water remains at a gentle, but consistent boil throughout. Once the meat is cooked, remove it from the water using a slotted spoon.