An Easter Parade Like No Other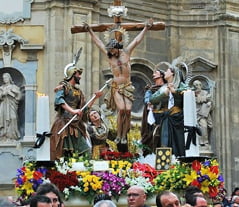 Easter is a time to reflect on the resurrection of Jesus Christ from the dead. In the Holy Week before, many customs are followed around the world. But as Good Friday begins, there is nothing so memorable as the "Processione dei Misteri di Trapani" or Procession of the Mysteries in Trapani, Sicily.
The Procession of Mysteries lasts for 24 hours, starting the afternoon of Good Friday in the Baroque Church of Anime Sante del Purgatorio, where there 18 wooden floats that are stored. The tradition started 400 years ago and is the longest religious display in all of Italy.
All through the streets of Trapani is a procession of 20 floats, each representing the Passion and Death of Christ. Many of the floats have a wooden base and are covered with statues, silver ornamentation and flowers that exhibit a variety of facial expressions of sadness and suffering. Each float is carried on the shoulders of 10 men while a band plays music and leads the procession. After the procession ends, there are all-night festivities before the floats are returned to the church 24 hours later on Black Saturday.
It is a meaningful event that springs from religious devotion and has been a cultural mainstay in Sicily throughout history. You owe it to yourself to experience this phenomenon as a start to Holy Week.