While Italy is world famous for its sightseeing, museums, monuments, and food, it is also home to countless festivals and events throughout the year. No matter what season travelers visit Italy, there is a unique and authentic local event to experience.
Spring Entertainment & Festivals in Italy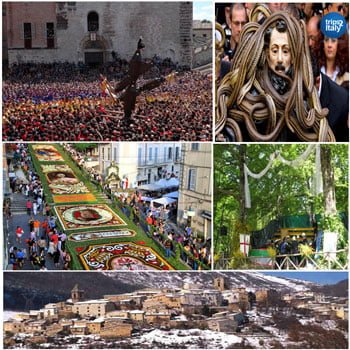 Each year in May, the city of Vetralla in Lazio celebrates the Wedding of the Trees. This event, which celebrates the fertile season of Spring, features a "wedding" of two massive, decorated oak trees in the forest of Mt. Fogliano. A Medieval tradition, it celebrates the city's union with the forest.
One of the most unique events in Italy is the Cocullo Snake Festival. Held in May, the event features a procession of the statue of Saint Dominic – who is known as the protector of teeth and protects people from being bitten by animals – which is covered by as many snakes as possible. Snake catchers from the region work for days to provide snakes for the event, and locals bring their own snakes. This religious parade features snake charmer music from a brass band and women dressed in traditional lace costumes.
Truly capturing the essence of Springtime, flower festivals are popular throughout Italy. Cities such as Noto in Sicily, Genzano in Lazio, and Spello in Umbria host these colorful, floral festivals that feature displays of intricate flower portraits. Held throughout May, artists use thousands of flower petals to "paint" on the cities' roads, creating wonderful, vibrant images.
Another religious festival is Festa dei Ceri (Festival of Candles), held each May in Gubbio in Umbria. This event is a feast of local culture, featuring a race in which three teams – each representing a different Saint – participate in a procession to the Basilica of St. Ubaldo. The teams carry large pedestals during the race that are meant to represent candles.
Easter in Italy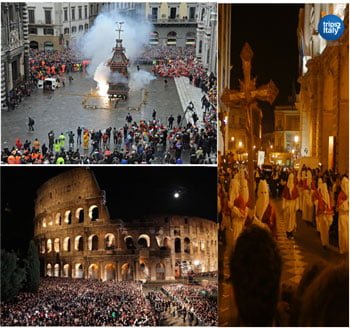 Being the home of the Roman Catholic Church, it is no surprise that Italians love to celebrate religious holidays such as Easter in a big way. One of the most interesting and passionate examples of this is the Mysteries of Trapani. Held each year on Good Friday, this celebration consists of a 16-24 hour long procession of floats which are decorated to represent scenes of the Passion of Jesus Christ. It is the longest religious festival in Italy and a truly spectacular sight to see.
Summer Entertainment & Festivals in Italy
Summer is a great time to enjoy sports, and the Italian event calendar proves it. During June in Florence, hundreds gather to watch the semi-finals of Calcio Storico – a combination of rugby, soccer, football, and wrestling originating from 16th century Florence. The event features four teams, each representing a section of the city, wearing traditional costumes and competing in the way of ancient Florentines. Held each July and August, the Palio of Siena is a must-see if visiting Siena at that time. It is the world's most renowned horserace and attracts thousands of spectators every year.
No trip to Italy would be complete without artistic experiences. For lovers of live performance, the Verona Opera – a series of performances ranging from ballet to opera – is a wonderful opportunity to experience Italian theater. In addition, the Festival dei Due Mondi (Festival of Two Worlds) in Umbria – a performing arts exhibition that features many types of art – is an amazing event. With singing, dancing, drama, visual arts, and more, the festival spans three weeks.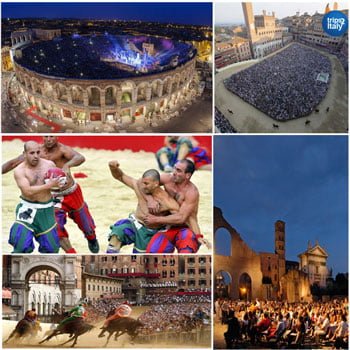 For music lovers, Summer is a great time to visit Italy and experience local music festivals. In Torre del Lago during July through August, the Puccini Festival is held annually. Celebrating the music of the famed composer Giacomo Puccini, the festival has featured many of opera's greatest performers. In July of each year Perugia hosts the Umbria Jazz Festival - the most important jazz festival in the world.
No matter what time of year, Italians often hold celebrations that highlight the importance of their faith. In Matera each July is the Feast of Madonna della Bruna. Meant to honor the town's protector, it features fireworks and a massive procession that begins before sunrise. The procession is led by shepherds and centers around paintings of the Madonna as she is taken to the Duomo. In Camogli, a very unique event to witness is the Procession of Christ of the Abyss. A nighttime procession, lit only by candlelight, takes place from the abbey of San Fruttuoso to the edge of the sea near where the famed underwater statue of Christ is placed. A late-night mass is held and an underwater procession takes place to leave a crown at the foot of the statue.
Fall Entertainment & Festivals in Italy
During September in Naples is the annual Feast of Saint Januarius. A public holiday, it celebrates the patron Saint. Many gather in hopes of witnessing the miracle of the liquification of the Saint's blood. Kept in a sealed glass container, the blood is typically solid, but it is said to liquify on certain days, such as during this celebration of Saint Januarius.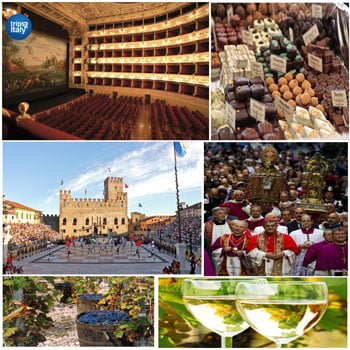 In Parma during September and October, the Regio Theatre holds the Verdi Festival. This event highlights performances of all Giuseppe Verdi's pieces.
If in Marostica in Veneto during September, one must check out the Marostica Living Chess Game. Just as it sounds, the event features locals dressed as living chess pieces playing a live game on a massive chess board in the town's square.
Foodies will delight in the many culinary festivals held throughout Italy, particularly during Fall harvest. In October, Perugia holds the Eurochocolate Festival – an event that celebrates and features many varieties of the city's local delicacy of chocolate. Another precious product of Italy is the white truffle, the star of the Alba International White Truffle festival. Held every October and November, it features all things white truffle – including tastings, cooking classes, auctions, and more – for over a month.
Vendemmia – a Season-long event in Italy
Practically a season all its own, Vendemmia – grape harvesting – in Italy is the source of many local events and festivities during Fall. More than simply a harvest, Vendemmia is a time of ample celebration of the year's grape crops as well as Italian culture. With wine being such a central cultural and socio-economical product, the hard effort of the farmers and pickers brings together everyone in each town that wine is produced. A variety of parties and events are always held to commemorate the culmination of a year's labor and the celebration of Vendemmia.
Winter Entertainment & Festivals in Italy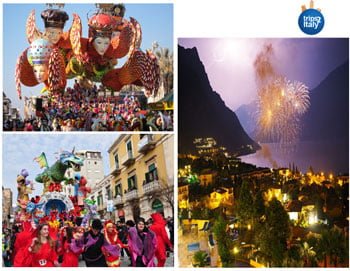 If in Aosta in January, a must-attend event is the centuries-old Fiera di Sant'Orso (Saint Ursus Fair). This event includes food and music while visitors enjoy hundreds of booths where local artisans sell their goods – from sculptures, to toys, to jewelry, and everything in between.
Carnevale in Italy
During Winter, cities throughout Italy celebrate Carnevale (Carnival), a Winter festival that serves as the last celebration before Lent begins. Carnevales feature locals dressed in costumes, city-wide parties, and extravagant parades. Many cities hold world-famous Carnevales, including:
Venice

– The most famous, known for its intricately designed masks and masquerade balls.

Ivrea – Also known as the Carnival of Oranges, includes a reenactment of the Battle of Oranges.
Viareggio – Occurs every weekend for a month, known for its spectacular floats and parades.
Acireale – Known as the most beautiful, featuring floral and paper mâché floats.
Christmas in Italy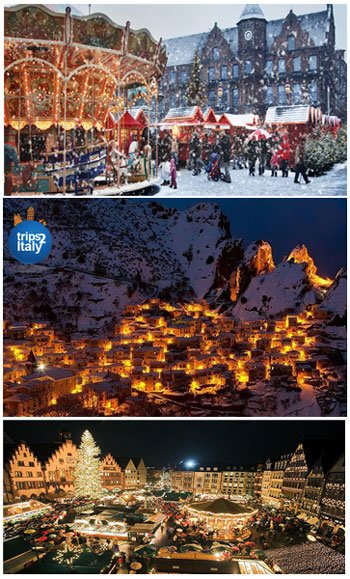 Nothing is more atmospheric and heartwarming than Christmas in Italy. In Trentino-Alto Adige, located in Northern Italy near Austria, the scene looks straight out of a holiday fairy tale – complete with stunning town squares, gorgeous decorations, ancient churches, and snow-capped mountains in the background. Towns throughout the area host Christmas markets which feature local goods, decor, gifts, and artisanal food and wine.
Vipiteno

– Features booths of food and gifts as well as

a hand-made wooden Nativity scenes

.

Trento – Held in the medieval setting of Piazza Fiera, has more than 90 stands of local goods and Christmas delicacies.

Bolzano – Known for being the most child-friendly Christmas market in the area, features many attractions for kids and the whole family.

Bressanone – One of the oldest markets, includes 40 stalls of handmade food and gifts.
Merano

– One of the most popular in the region, features many Christmas foods and choral music performances.

Brunico

– With a small-town vibe and a ski resort atmosphere, it's one of the original five Christmas markets of the area.
Christmas Eve Mass in Italy
If in Italy during Christmas, one should consider participating in one of the many masses held throughout the country. Nearly every city has their own traditional mass to celebrate Christmas, but all are moving and representative of the history and passion of the Italian faith. One of the most popular Christmas masses is the midnight mass held by the Pope in Rome in St. Peter's Square. Often reserved months in advance, tickets for this event can be hard to get, but are well worth it.
Why prioritize local entertainment and festivals while in Italy?
As a world-famous travel destination that attracts millions of visitors a year, it can be easy for travelers to fill up their Italian vacation itinerary with the country's iconic sightseeing. But to truly experience Italian culture, one must do as the locals do! And in Italy, that means celebrating local culture and history every month of the year with fun, exciting, and culturally important events and festivals. There is no better way to immerse oneself into the authentic world of Italy than experiencing one or more of these fantastic celebrations.