Featuring lush national parks and a variety of landscapes ranging from rolling hills, to seaside cliffs, to snow-capped mountain peaks, Italy has some of the world's best hiking and biking trails. Immersing oneself in the natural beauty of Italy and going off the beaten path can make for an unforgettable experience.
Hiking in Northern Italy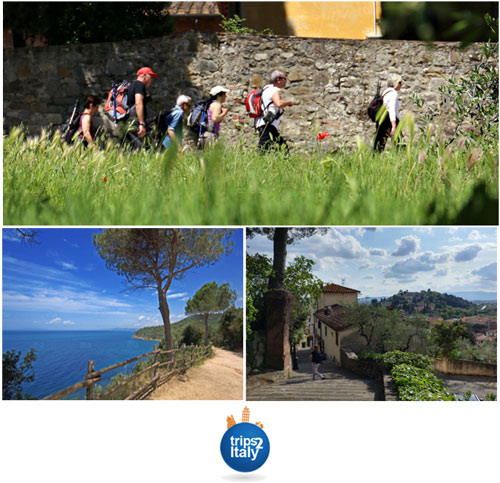 Northern Italy boasts some of the country's greatest landscape features – stunning mountain ranges, seaside views, and expansive national parks just to name a few. One has a variety of options to choose from when planning to hike this area of the country.
High up in the Aosta Valley on the Southern side of the Alps is the Alta Via dei Giganti (Trail of the Giants). This high-altitude hike is one of the best long-distance paths in Italy, but each section can be hiked alone as well. It features floral meadows in the spring and wonderful views of Mt. Blanc, the Matterhorn, and Mt. Rosa.
If traveling to Florence, take a hike along the Anello del Rinascimento (Renaissance Ring) – a 106-mile-long path which begins and ends at the Castle of Calenzano and takes travelers on a lovely journey of the Florentine countryside.
Off the western coast of North Central Italy, hikers can enjoy the rarely traveled Capraia Island and its trails, which offer amazing sea views and glimpses into the wild, untamed nature of the Mediterranean.
Also in North Central Italy are the Sibillini mountains in Umbria. Part of the Appenines and a national park, the trails that cross these mountains offer hikers of all skill levels a hill-like hiking experience with views of picturesque fields and lush landscapes.
One of the most popular hiking destinations in Italy is Cinque Terre – an UNESCO World Heritage Site. Whether an avid hiker or beginner looking to take in wonderful views, the trails of Cinque Terre are unparalleled. Featuring many paths that connect the five villages that make up the area, there is a trail for every level of experience.
The most famous trail – Sentiero Azzurro, or the blue trail – connects Monterosso to Riomaggiore and offers vistas unlike any other. It is seven miles long and considered a must for all travelers in Cinque Terre.
A trail linking the villages of Riomaggiore and Manarola, Via dell'Amore is one of the area's most romantic pedestrian paths. A little over half a mile in length, it traces the Ligurian coastline and features gorgeous views of the sea. It is known as "Lover's Lane" due to its charming atmosphere that has attracted couples for decades.
Dolomites
A hiker's paradise, the Dolomite mountain range offers meadows of wildflowers, lush forests, high altitudes, tremendous peaks, and pristine lakes. The countless trails that crisscross these mountains allow for hikers of all levels to enjoy this alpine escape.
One of the most difficult – but most rewarding – is the Via delle Bocchette Alte, the most famous trail in the Brenta Dolomites. Experienced and skilled hikers will savor the panoramic views while traversing the trail along exposed edges.
Hiking in Southern Italy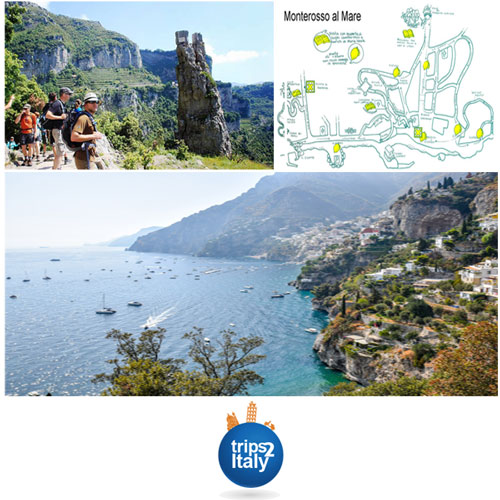 Hiking Southern Italy will bring travelers closer to the lush nature of Italy – including national parks, thick woods, shimmering coastlines, and active volcanoes.
In the region of Campania, hikers can enjoy the breathtaking views of the Amalfi Coast. One of the most famous paths – the path of Gods – takes hikers on a tremendously beautiful five-mile trek from Agerola to Nocelle. The Sentiero dei Limoni – or lemon trail – leads from Majori to Minori, walking through the picturesque village of Torre and past fresh lemon orchards on terraced gardens.
Located between the regions of Basilicata and Calabria is Pollino National Park – an area bursting with rare loricate pines and amazing wildlife. A path great for first time hikers is the trail which travels from Madonna del Pollino to Serra Crispo. Another trail in the park – the Ring of Patriarchs – is an eight-mile path that immerses hikers in the outstanding beauty of the park's unique vegetation.
To hike atop active volcanoes, travel to Sicily – home to Mt. Etna and Stromboli. Each offers paths with varying levels of difficulty. When hiking Stromboli, one can be guided by professionals to see the volcano's craters and eruption sites. No matter which path or which volcano one chooses, splendid views and a one-of-a-kind experience are ensured.
Biking in Northern Italy
Biking in Northern Italy will take riders on journeys surrounded by landscape views, fresh mountain air, medieval castles, and charming villages – proving that the best way to experience Italy is on two wheels.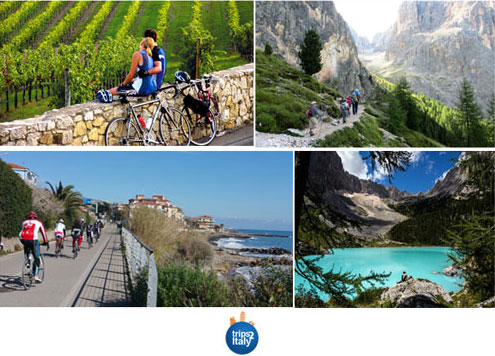 One of the longest and most beautiful bike trails in Italy is the 120-mile-long path that takes riders on an incredible tour of the Veneto side of Lake Garda, crossing through three regions. Beginning in Bienno, this trail also explores the Southern section of Trentino Alto Adige.
In Veneto is a 32-mile-long ring which encircles Colli Euganei, passing through charming towns and featuring lovely views. Another bike ring that offers picturesque views is one in the Non Valley, located in the Trentino region. This path is 21 miles long and takes bikers through the valley, which is affectionately called the "Valley of the Apples" due to its vast array of apple orchards.
In Lombardy is a 40-mile cycle path which connects Tirano to Colico. It is considered one of the best ways to immerse in the alpine atmosphere of Lombardy, featuring beautiful mountain views and abundant fresh air.
Another unique path is the Corona di Delizia – Crown of Delight – in Piedmont. This 55-mile-long path traces a "crown" around the city of Turin, allowing bikers to visit amazing locales such as Venaria Reale, the Castle of Valentino, and the Castle of Rivoli.
Biking in Southern Italy
In Southern Italy, cyclists can enjoy a variety of bike paths which highlight the area's vast natural beauty as well as the charm of the local villages.
In Apulia, there is a 15-mile-long path which connects the amazing towns of Locorotondo and Alberobello. Cyclists will enjoy the unique landscape as well as the towns. Each town is historic and filled with culture, specifically Alberobello – which is known for its unique, conical architecture.
On Sicily's Favignana Island, it is said the best way to enjoy the lush vegetation and sparkling seaside views is by bike. There is a 20-mile ring which allows cyclists to enjoy all the wondrous beauty of almost the entire perimeter of the island.
What should travelers pack on a hike or bike trip?
Hiking and biking Italy can be an immersive experience, allowing travelers to experience the scenery and the local culture. But to enjoy any active, outdoor vacation fully, travelers should know what items to bring on the trails and which items will be provided.
When going on a hike – short or long – it's important to wear the right clothing and pack items that one may need along the trail, such as:
hiking shoes
hat
sunscreen
sunglasses
light backpack to carry basics (water, camera, phone, snacks, first aid kit) or personal necessities such as medication
When planning on a bike trip, packing needs are dependent on the trip length. For short, day trips or bike tours lasting from 2 to 8 hours, a bike is typically provided. For travelers wanting to explore the city on their own, bikes are often available for rent locally. For bikers looking to do nearly all of their travel by bike, consider bringing:
personal bike from home
biking gear (seat, clothing, helmet, shoes, etc.)
saddle bag
patch kit
lock
Whether hiking or biking, a wind jacket is recommended on certain trails no matter what time of year.
How long should a hike or bike trip last?
While the length of any vacation varies based on individual preferences, Trips 2 Italy recommends a minimum of 9-11 days to fully enjoy their time in Italy, regardless if hiking or biking is included in the itinerary. Shorter packages are available, often including an escort who can help maximize travelers' experiences.
Customized Itinerary
Trips2Italy specializes in fully customizable trips to Italy to ensure guests get the exact vacation they've dreamed of. Whether interested in a completely outdoor-focused vacation or just wanting to add a hiking or biking experience to one day – the travel experts at Trips 2 Italy can customize a hike and bike trip that perfectly balances outdoor hiking and biking with all the food, art, culture, history, and wine that makes Italy such a premiere destination.