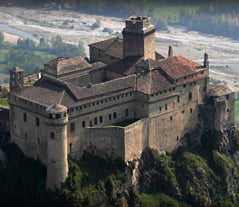 When most tourists plan their itinerary around Italy, they think about the usual cities, such as Rome, Venice, Milan and Bologna, among so many others. There are smaller destinations along the way that will truly give you an untouched and authentic feeling of what Italian culture and history is all about.
One such town is Piacenza, located in the Northern part of Italy in the Emilia-Romagna region where it serves as the provincial capital. Upon approaching this medieval town, you will be struck with the charming landscape of the surrounding hills, valleys, rivers and vineyards. You will also immediately be immersed in its historical splendor.
Piacenza dates back to 219 BC, when the Romans founded it. Many medieval castles were built, as it was a city that wealthy landowners migrated to for the rich farmland.  You can visit these extravagant castles, forts and palaces and learn the story behind each one. In particular, the Duke of Piacenza built Palazzo Farnese of Piacenza on the banks of the River Po in 1556. Today it is a museum and has exhibitions relating to the history of Piacenza and the region.
If you are a foodie, you know that the Emilia-Romagna region is well known for its cuisine.  It is not a huge city, but its country style lends itself to some of the best food in the region. Here you will find locally organic grown products, such as tomatoes, where more are grown, canned and sold than anywhere else in Italy. You will also find varieties of salumi, including coppa, pancetta and salame, all produced in local factories. Piacenza is also famous for its gnocchi, tortellini and many other pasta dishes. You will also find a variety of local wines, including the DOC Gutturnio, which is a red wine produced in both bubbly and still versions.
If you like small villages that are off the beaten path, Piacenza is a must-see destination.