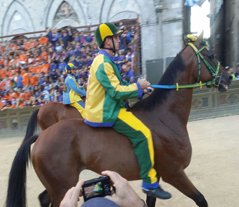 We already wrote an article about the Palio di Siena (check the link to have a brief overview of it) but this event is such a big cultural moment not only in Tuscany, but in the whole country of Italy. Intertwined with the horse race, which is the peak of the celebrations, there are so many stories, events, legends, and curiosities which are worth narrating. In this article, I am going to write about the different districts (the so called Contrade) of the city which are involved in the Palio, describing in particular their history, colors, and flags.
The contrade were born in the Middle Ages. Firstly as a way to identify a community of people who gathered to talk about problems, particular subjects or actions to undertake in the neighborhood. Through the centuries, they became an administrative and military institution, with roles, statutes, and even particular rituals. The number of the Contrade around 1300 was 42, after dreadful epidemies and territorial adjustments, in 1792, it was decided to reduce them to 17, keeping in place only those which were within the city walls. Every contrada, if you love examples, is like a guild, has its own museum, fountain, baptismal font, motto and a particular professional background. Among the Contrade there are ancestral rivalries and alliances, which are public and evolve through years with breaking moments and twists, depending on the results of the horse race and veiled grudges. It's like a mini Game of Thrones, obviously without violence or cruelties, but with the same acumen for strategies and tactics.
The Palio, the horse race, is about the jockeys of course, but it is especially about the horses. Instead, the moment where each Contrada really shines is the so called Corteo Storico.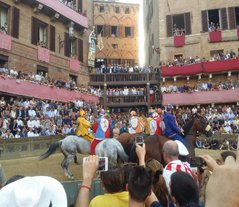 A parade, a medieval march, where flag throwers, musicians, members of the contrada dressed in medieval outfits, and all the residents with the scarf of their contrada, walk through the streets of Siena. Each Contrada has its own colors, its own flag and its own name which recalls an animal or a symbol. Behind the colors, the flags and names of each Contrada there are numerous heraldry studies and historic heritages. Just for your delight and curiosity find below all the 17 names of the Contrade with their colors:
Aquila (Eagle) - Yellow-gold striped with blue and black
Bruco (Caterpillar) - Yellow and green striped with blue
Chiocciola (Snail) - Yellow and red striped with deep blue
Civetta (Owl) - Red and black striped with white
Drago (Dragon) - Pink and green striped with yellow
Giraffa (Giraffe) - White and red
Istrice (Porcupine) - White, red, blue, black
Leocorno (Unicorn) - White and orange striped with deep blue
Lupa (She-wolf) - White and black striped with orange
Valdimontone (Ram) - Red and yellow striped by white
Nicchio - Blue with yellow and red stripes
Oca (Goose) - White and green striped with red
Onda (Wave) - White and celestial blue
Pantera (Panther) - Red and blue striped with white
Selva (Forest) - Green and orange striped with white
Tartuca (Tortoise) - Yellow and deep blue
Torre (Tower) - Crimson red striped with white and blue
For the people of Siena, the Palio is more than a horse race. It is something of which they are passionate about, they love to talk about all year long, and they truly respect, not only as a tradition, but also as an honor, in its most authentic meaning. Being part of this celebration is like being back in medieval times, with all the flags on the windows and balconies of each district and gatherings and events spread all over the city. For all of these reasons, most of the affiliates of the Contrade deeply feel that they are first a member of their Contrada and then a citizen of Siena.