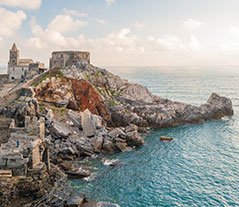 Liguria is a region filled with charming seaside towns and while Cinque Terre may be at the top of everyone's vacation list, there is much more to be discovered in the Italian Riviera. Take the Gulf of La Spezia for instance, located just south of the famous five villages. Nicknamed the Gulf of Poets, it's easy to understand how this stretch of coast has been adored by literary icons for centuries. Though it is also filled with colorful fishing villages poised on cliffs like its famous neighbors, this area's tranquil atmosphere sets it apart.
The Gulf of Poets is situated between two promontories spanning from the peaceful town of Portovenere to the quaint village of Lerici with miles of jagged coast, blue seas, historic villages, and lush nature in between. The area's unique nickname derives from the many poets and writers that have been inspired by its beauty including Petrarch, Dante, Percy Bysshe Shelley (who drowned in the gulf near Lerici when his boat overturned during a storm), Mary Shelley, Lord Byron, D.H. Lawrence, and Virginia Woolf.
Each of these writers fell in love with the humble, relaxed atmosphere of the Gulf of Poets, which differentiates it from other nearby locales such as luxurious Portofino and beautiful, though often crowded, Cinque Terre. The Gulf of Poets' three main towns all perfectly embody this unique spirit. For instance, in Portovenere one will find colorful houses situated around the town's port, a rich natural park, and stunning sea caves, one of which is said to have been the home of Lord Byron. Situated at the center of the gulf, is La Spezia, the provincial capital and site of one of Italy's most impressive ports. Lerici, located opposite Portovenere, is considered to be one of the most lovely villages in Liguria, and it is known for its golden beaches, medieval castles, and splendid villas immersed in vegetation.
Portovenere and Lerici may be the principal towns of the Gulf of Poets, but there are other areas along this stunning coast worth mentioning. For instance, San Terenzo is considered to have the best beaches of the entire gulf and Tellaro is famous for its annual underwater Christmas celebration. In addition, the many fishing villages that dot the coast, such as Fiascherino and Montemarcello, are not only filled with breathtaking natural beauty, but they also have the ability to take visitors back to a simpler time.
An interesting story surrounding the Gulf of Poets features one of the poets that inspired the gulf's nickname. According to legend, Lord Byron swam from his sea cave home in Portovenere all the way to San Terenzo, a suburb of Lerici, to visit his friend Percy Shelley. The sheer distance of this swim, roughly 4.6 miles, was so amazing that it inspired the Byron Cup Swimming Challenge. This race occurs every last Sunday of August and challenges participants to recreate Byron's legendary journey by swimming a similar route from Portovenere to Lerici.
Truly, the crystal blue water and quiet atmosphere of the Gulf of Poets provide a perfect destination for those wishing to experience the beauty of Liguria while avoiding the bustle of the region's more famous sites.