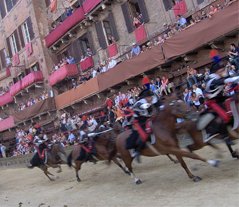 The Palio di Siena is a horse race that takes place twice yearly, on July 2 and August 16, in Siena, in which ten horses and riders represent ten of the seventeen  city districts  (in Italian: Contrade). The Palio is one of the most popular and spectacular Italian events. 
Each contrada has its own name, colors and symbols. Some of the districts names are Eagle, Snail, Wave, Forest, Tortoise, Owl, Tower, Porcupine, and Goose. Originally, there were about fifty nine Contrade.
The Palio di Siena dates back to the Middle Ages, when the town's central square was the site of public games, largely combative, such as buffalo races, donkey races or different ball games. The race is held on Piazza del Campo, the magnificent town's square turned into a racetrack, fit for the race, thanks to its semi circular shape, similar to a Roman Amphitheatre.
For no more then 90 seconds, the 10 horses run 3 times around the square. Even when a horse loses its rider, because of the violence and speed of the race, he goes ahead and can win. The stars during the palio are the horses representing the Contrade, not riders, and it is not so unusual for the jockeys to be thrown off their horses.
There is crowd on the Campo from the early afternoon, even if the race is at 7.45 pm in July and at 7pm in August. People try to reach a good position to follow the race. All around the track seats are arranged, and balconies are made ready for visitors. More then 30 thousands seats are not sufficient, and they are sold out long before the race date.
In the center of the square, there is place for other 25 thousand people, but this is not enough, and people are everywhere, even on roofs. The race is preceded with a spectacular parade, a display of medieval costumes dating back to year 1400, accompanied by the beating of drums, while a group of flag bearers representing the Contrade perform together, throwing flags in the air and catching them again before they touch the ground.
This is a splendid display of colors. Waiting for the races to begin is a time full of pathos and enthusiasm, and when the horses appear, the crowd becomes delirious.
Being there, with people living in Siena, to feel their antagonism, their passion and pride for the Contrada they belong to, is something unforgettable.
What does the winner win? ...a silk hand painted banner.
You are still in time to take part in the Palio di Siena next summer!
To read more about Siena:  Tuscany , Chianti Area and Siena .