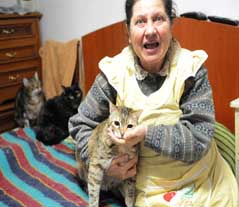 Her name is Wanda Palumbo and she lives in Naples with her many cats. No matter if a cat has a problem, if it has been abandoned, if it is looking for a home, something to eat or just a little bit of love, Wanda welcomes any cat warmly and give them hospitality in her little cozy home, in the heart of the city.
Known as "Wanda, the cat lady", she has reached the considerable number of 26 cats, every one with a name and a story, all of them under the same roof. Wanda tells that after the death of her husband, cats are her mission, her life's reason, her sun.
They helped her to overcome sad periods when she was blue. Cats… what a passion!
To read more about Naples :  All About Naples Culture & Naples Guided Sightseeing tours.