Roasted Veal and Potatoes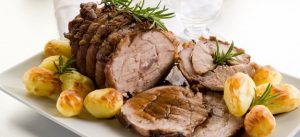 Roasted Veal and Potatoes is a common Christmas Day meal.
Prep Time

5 min

Cook Time

10 min

Total Time

15 min
Cuisine

Course

Cooking Method

Keywords
Ingredients
2 lbs. veal tenderloin
1 cup dry white wine
1 sprig of rosemary
1 garlic clove, cut in half
2 sage leaves
1 bay leaf
3 tablespoons extra virgin olive oil
1 ladle of warm beef broth
Salt and pepper to taste
Preparations
1
Pre-heat oven to 400 degrees. Tie the veal with kitchen twine and season with salt and pepper on all sides. In a pot large enough to hold the meat, heat the olive oil over medium heat and brown the meat on all sides. Use two wooden spoons to carefully turn the meat.
2
Add the white wine and allow it to evaporate. Next, add the herbs, beef broth, and garlic. Allow the flavors to mix for a minute or two and then roast in the oven at 400 degrees for 1 hour to 1 hour and 15 minutes. Turn the meat and baste frequently while it's cooking. If the pan starts to dry up, add more warm beef broth.
3
Turn off the oven and allow the veal to rest for 10 minutes in the oven. Then, drain the liquid from the pot and strain it. Remove the twine and cut the meat into even slices. Serve with the strained sauce.