Spaghetti alle Vongole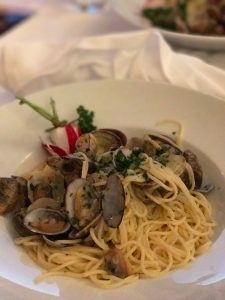 Spaghetti Alle Vongole or Spaghetti with clams is a classic dish any time of year, but at Christmas, this dish often takes center stage.
Prep Time

20 min

Cook Time

25 min

Total Time

45 min
Ingredients
2 ¼ lbs. clams
10.5 oz. spaghetti
½ cup dry white wine
2 cloves garlic
2 tablespoons olive oil
Red pepper flakes to taste
Salt and pepper to taste
Preparations
1
Preparing the clams: the day before cooking, clean the clams by placing them in a bowl of salted cold water for at least 12 hours. Immediately before cooking, rinse the clams under cold water to ensure that all sand has been removed.
2
Place the rinsed clams, garlic, and white wine in a skillet over high heat. Let the wine evaporate, cover the pan tightly with the lid, and wait until the clams open completely, this should take about 3 minutes. Remove the clams and garlic. Drain the liquid, strain, and reserve.
3
In the same pan, heat the olive oil over medium heat. Add the garlic and red pepper flakes and sauté for about 1 minute. Return the clams and filtered liquid to the pan and heat for 2 minutes.
4
Finely chop the parsley and cook the spaghetti in boiling salted water until it is almost al dente.
5
Drain the spaghetti and add to the pan with the clams. Stir for a few seconds and serve immediately with sprinkled parsley and freshly ground black pepper to taste.