Porchetta di maiale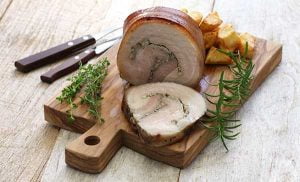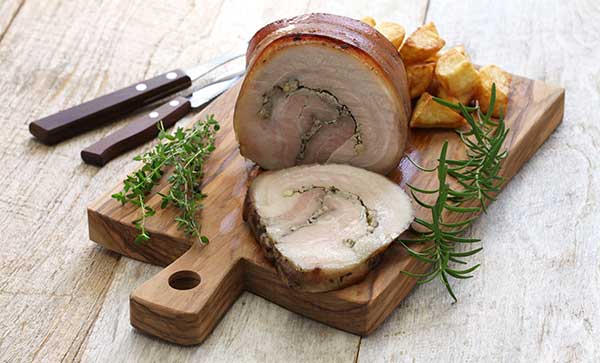 An authentic Italian roasted pork recipe.
Prep Time

15 min

Cook Time

2 hr

Total Time

2 hr 15 min

Yield

8 Servings
Cuisine

Course

Cooking Method

Keywords
Ingredients
3 ¾ - 4 lbs. boneless pork shoulder roast, skin on
4 sprigs rosemary
2 teaspoons fennel pollen
5 cloves garlic, minced
1 ½ teaspoons salt
1 ½ ground black pepper
2 tablespoons extra virgin olive oil
Kitchen twine
Instructions
1
Pre-heat the oven to 375 degrees. Finely chop the rosemary and place in a small bowl. Add the fennel pollen, minced garlic, salt, and pepper and mix together with a spoon.
2
Score the skin of the pork in a diamond pattern with cuts that are about 1/8 inch deep. Lay the pork flat and make 10 or more cuts throughout the pork. Stuff the pork with about 1/3 of the herb mixture.
3
Roll the pork and tie together with kitchen twine by running the twine horizontally along the longer side of the pork and making a knot. Then, place the twine in the opposite direction and make a second knot. Repeat until all of the pork is tied.
4
Cover the skin with olive oil and rub with the remaining herb mixture.
5
Place the pork in a roasting pan and roast in the oven at 375 degrees for about 1 hour and a half, until the pork reaches an internal temperature of 156 degrees. Let the meat rest for 15 minutes then slice and enjoy!