Relax And Smell The Roses...Plus A Million Other Flowers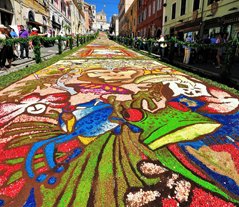 In Italy, everything is about beauty, art and celebration. In the second week of June, they all come together in the "Infiorata", or Flower Festival, held in Genzano, which is just outside of Rome.
It is a tradition that started in the 1700s, but it pays homage to the Christian celebration of Corpus Christi back in the 13th Century, when townspeople would throw sacrament petals during the procession through the streets.
Now, local artists sketch out incredibly detailed designs in previously decided themes and then translate them onto the pavement of Via Belardi.   Then, literally millions of flowers are picked 2-3 days before the festival in a wide variety of colors and they are laid into these artistic masterpieces to be viewed in a parade that is attended by everyone in the town.
Then, after the festival is over, it is also tradition for the children of the town are encouraged to play in these flower fields, thereby destroying the beautiful works of art.
Genzano di Roma is a quaint and beautiful town and while you are there primarily for this incredible display of floral beauty, its historic nature includes "Castelli Romani", or Roman Castles, which are scattered throughout the area. This town is a summer retreat for Romans, including the Pope, as Castel Gandolfo, his summer residence resides there. It is the perfect place to enjoy the many restaurants and local wines of Frascati.