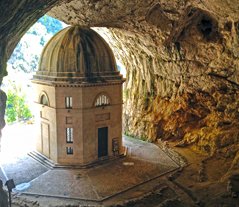 In Italy, the more you explore the more you realize that in every corner you can find a piece of art, a secret, or some joy for the eyes. In the Marche region, The Temple of Valadier is one of those places lost among the Apennines and sheltered inside a karst cave. This place mixes a spiritual and ascetic setting with a sense of discovery and adventure.
Immersed in the wild nature of the natural park of Gola Rossa and Frasassi, the cave was used, before the creation of the Valadier temple, as a refuge for the population in case of invasions or wars. This area, in the municipality of Genga, through centuries, has become an important spiritual location, a so called "refuge for the sinners". Besides the temple, the main reason of this reputation is the presence of an ancient Benedictine hermitage, the Sanctuary of Santa Maria infra Saxa, located just few steps outside the cave and partially carved in it.
The Valadier temple takes its name from the architect, Giuseppe Valadier. This holy building was commissioned by Pope Leo XII, who was a native of Genga, and completed on 1828. This octogonal shaped church has a lead dome and its walls are made with a particular type of travertine, extracted directly from the nearby caves of Frasassi. Inside this tiny and neoclassical church, there is a reproduction of the statue of the Madonna with Child. The original marble sculpture is currently preserved in the Art Museum of Genga and the experts said that for sure, it is a product of the Antonio Canova workshop, if not a masterpiece of the master himself.
The Marche region is one of those parts of Italy still not contaminated by tourism and foreign travellers. This region is considered, thanks to its roads and panoramic views, a sanctuary for every motorcycle enthusiast. The Marche region has also medieval cities like Gradara and Urbino, which even in the modern era, don't lose their fascinating atmosphere. This region, in particular within the area which surrounds the Temple of Valadier, is an unexplored part of the Italic boot and for this reason it has a lot of paths to still be discovered.