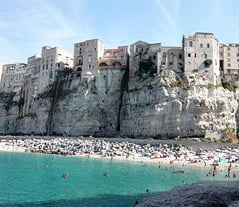 Ever considered Italy for your next seaside destination or simply do like the Italians do the "dolce far niente" which literally translates to "sweet doing nothing", if you know what we mean? Whether you have or have not, let us suggest the coast that goes from Tropea to Capo Vaticano, in the province of Vibo Valentia which stretches along the Tyrrhenian coast. The scenery will leave you astonished with its mesmerizing beaches and sandbars between the mountains.
This area has only become a tourist attraction in the last twenty years due to its stunning natural scenery which is considered an ecological sanctuary for its numerous birds and particular marine life. Cliffs surround a whole myriad of sharp and small rocks of granite and limestone which are randomly scattered underwater at the edge of the sea.
Most of the beaches are of fine white or golden sand and their morphology varies from year to year, in size and shape, depending on the winter storms.
A light breeze keeps the air clean and the sea water is turquoise thanks to the intersection of the currents from the Gulf of Lamezia Terme with those from the Gulf of Gioia Tauro which create a natural defense against the pollution along the coast. The seabed is very rich in flora and the fish population is very diverse, a true dream for scuba diving lovers or snorkeling alike.
Capo Vaticano is among one of the 100 most beautiful beaches in the world and has attracted famous Venetian writer Giuseppe Berto who wrote about this wonderful gem and settled here after travelling throughout all of Italy.
Today, it continues to attract also the Italian jet-set as accommodations in the area are becoming more prestigious.