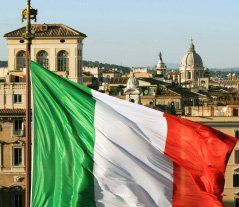 CICERO No. 2 - Anno MMXII Travel Newsletter of Italy
April 2012 - Vol. 3
Dear Trips2Italy's Friends,
Spring has arrived and with it the wish to discover and enjoy new places. The short winter days are now behind us and it's the perfect time to think about travels and celebrate the season of blooming flowers and festivals.
Italy is waiting for you with a medley of highly and less famous places to discover along the traditions, local specialties, festivals, food and the unique witty demeanor of the Italian people.
Let's start with two traditional celebrations: "Palio della Rana" and "Palio dell'Asino" (the Frog and Donkey Festivals) which take place in Fermignano (Marche region) and in Torrita di Siena (Tuscany). This is a typical example of how the most famous "Palio di Siena" has influenced in some way other smaller towns to organize their own competitions with the more familiar local animals, such as frogs and donkeys.
Spring is also a great season to wander around the beautiful region of Marche where one can find some of Italy's most aromatic and delicious truffles in Acqualagna, explore the natural wonders of the Furlo Reserve and discover one of Italy most enchanting medieval towns and UNESCO World Heritage Site, Urbino.
Let's not forget the sweet side of Italians by introducing you to a typical sweet specialty, the Torrone, while discovering the artistic city of Cremona in Northern Italy. The Torrone is considered to be a specialty of Cremona because some say that its name refers to Torrazzo, a tower and the most famous landmark of the city. And to celebrate the wedding of Francesco Sforza to Bianca Maria Visconti, the court's pastry chefs worked together to make a tower-like torrone………
Last but not the least; let us share an unusual story of how 400 sheep in the region of Abruzzo saved their owners from isolation during the worst winter storm of the season.
Enjoy the reading, enjoy your virtual trip!
Tommaso De Poi
CEO Trips2Italy Group
This Cicero Newsletter features:
- Get Your Donkey And Frog Ready For Competition - Marche And Tuscany Folklore
- Cremona: A Musical City With A Very Sweet Tooth
- Marche Region: An Altenative Itinerary For Nature Art And White Truffle
- Abruzzo Inhabitants Rescued From Isolation Thanks To Sheep