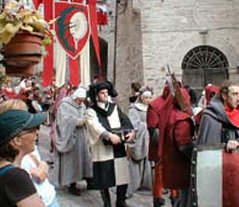 Umbria is the Region of the spirit. The beauty of the landscape - with welcoming mountains and sweet hills - is luminous.
The region offers superb art and architectural treasures that reflects thousands of years of history. An ideal destination, both for those who love culture and for people more interested in nature, Umbria has not yet bowed to the tyranny of mass tourism.
This land gave birth to saints and painters. St Francis, the man who abandoned his rich family of cloth merchants to live in poverty around year 1190, was born near Assisi. Assisi is a tranquil hill town that attracts, every year, millions of pilgrims.
In spite of this, everyone visiting this area feels here a spiritual atmosphere. The Basilica of San Francesco in Assisi, unfortunately damaged during recent earthquakes, is a must in your trip. It lies on a hill known as "Paradise Hill," but, until the 13th century, it was the "Hell Hill", because people in this area were executed here. In this church, you'll find a biblical fresco attributed to Giotto, one of the most famous pieces of art in the world. Another town worthy to be visited, in the area, is Gubbio, small and easy to explore.
It is famous for the Eugubian Tablets, which date from 300 to 100 BC. It is the best existing example of Italian ancient script. Don't forget here to experience the Funivia Colle Eletto, a sort of cable car, dangling many meters above a rocky hill.
Your visit in Umbria can continue with Orvieto, placed on a cliff made of a porous limestone. Here, visitors cannot miss the breathtaking Cathedral. Not far from Orvieto is Spoleto, a quiet town that hosts every year between June and July the "festival of two worlds", a worldwide attraction that gives an international image to the Umbrian city, with performances of dance, prose and lyrics.
In the same month, the Umbria jazz festival takes place. It is, without any doubt, the most important event dedicated to jazz in Europe.
The biggest jazz artists go there every year. From morning to evening, dozens of concerts are performed. Another interesting festival in Umbria, more precisely, in the city of Perugia, is dedicated to the food of the Gods: chocolate.
For days in October, the Umbrian capital transforms itself into a huge open air pastry-shop with slaves of cacao and fountains of chocolate. Exhibitions, laboratories, cooking classes, tasting and banquets are organized during the week.
To read more about Umbria Region :  All About Umbria Culture & Umbria Guided Sightseeing Tours.