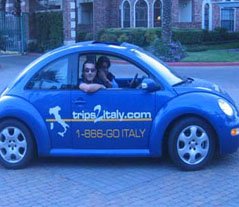 Many people reading this are probably already thinking about their next vacation. Visions of ancient cities, friendly people, and gorgeous landscapes dance before the eyes, and noses are already picking up phantom scents of true Italian cooking! If you are one of the many thinking about a trip to Italy this year, or beyond, I invite you to check out our brand new website.
You will find everything you need to learn more about your Italy vacation and the best destinations in Italy for your next trip thanks to our easy to use new site. You will find some great new travel packages for Italy, and it has never been easier to search for new and interesting destinations all around the country.
Just like you, we're also getting into social media. Visit our site so that you can learn more about our endeavors and ventures into the wonderful world of social networking and so you can connect with us. We have a blog that's coming up just around the corner too. You will be able to visit our site and eventually our blog so you can keep up with the latest news and information about trips to Italy and the places you truly want to see.
Have fun checking out the new site, and have a wonderful trip to your dream destination!
Tommaso De Poi
CEO Trips2Italy