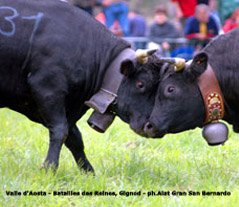 Skiers know that they can find quite a few great places to go skiing on their Italian vacation, and the Aosta Valley is one that often stands out amongst the best in the country. You can find great lifts and runs, perfect snow, and plenty to love about the area. This area offers far more than just great skiing though.
When one starts to explore some of those smaller regions of the country, such as Aosta Valley, they are going to be able to find other areas with fewer people that offer the same – or even better – opportunities when it comes to skiing in Italy. These locales are beautiful and they even a nice fit for those who don't necessarily want to get out on the slopes.
You will be able to experience much of the area's wonder and culture each year at the end of January. In the city center, they throw the Foire de Saint Ourse. This fun event celebrates the history and the folklore of the area, and it has a great craft fair that boasts some beautiful handmade items that you will not be able to find elsewhere.
During Foire de Saint Ourse, thousands of artists and craftspeople from all around the region come to the city center to present their goods. All of the items that you see are handmade locally and are part of the overall celebration of culture in the region. The event lasts two days and features more than just crafts. They have traditional music and dancing, traditional performances, and a chance for everyone to taste some of the local specialties.
Those who aren't visiting the area in January will still be able to find plenty to do and to enjoy throughout the remainder of the year. During spring and summer, many of the smaller villages in the region still engage in the Queen's Battle, or the Battaglia delle Reines. Of course, this doesn't refer to human queens, but rather the queens of the pasture – cows!
This "battle" doesn't involve any bloodshed, but it's a fun way for the villagers to gather and have a good time. Those who are in the area during these types of festivities should take some time to learn more, as it's an interesting glimpse into the local culture. The locals love to watch and spend the day outside enjoying the traditions of this gorgeous Alpine area.