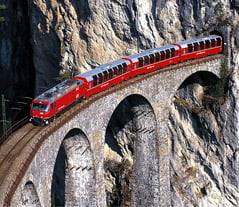 Ever wanted to visit a glacier, but not keen on arctic travels? The Bernina Express is a 2 and a half hour journey through some of Europe's most beautiful terrains, starting from the warm Mediterranean climate of Italy and travelling through the Alpine meadows and glacial landscapes of Switzerland.
First built in 1910, this sightseeing experience is on the UNESCO world heritage for the encompassing nature of the landscapes, towns and cultures it crosses. Another unique aspect is the wide windowed panoramic cars, ensuring that you see everything the ride has to offer.
Boarding the train in Tirano, you'll begin your journey traveling through a lush bit of the Italian countryside to the Swiss border. Keep an eye out for the gradual change in plants as you continue on, using the Brusio Spiral Viaduct to gain altitude.
This large spiral helps the train to reach higher, without the use of extra machinery, and creates unique photo opportunities for those inside and outside the train. Miralago is the next stop of interest, as the train passes by a green glass lake reflecting the forests and mountains to the village of Le Prese. The train actually follows the main street, giving you a chance to snap pictures of the most charming homes and businesses. The train continues in such a manner, through more forests and villages, until the Alp Grum Station.
This marks the start of the truly glacial and less forested scenery. To the sides, you can see the famous Pizzo Palu' and Pizzo Bernina mountains. The next stop is Opsizio Bernina, the highest point of the journey, at an altitude of 2253m above sea level. This also makes the Bernina Express the highest altitude rail line in the Alps. Continuing on, our next major point of interest is the Montebello curve, famous for its mountain views. The ride ends at St. Moritz, a Swiss luxury town, where you can enjoy lunch or spend the night, before boarding the Bernina Express back to Tirano.