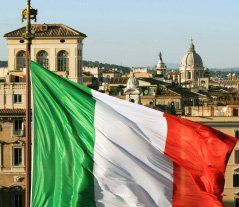 CICERO No. 1 - Anno MMXII Travel Newsletter of Italy
February 2012 - Vol. 3
Dear Trips2Italy's Friends,
As winter's images are still vivid in our eyes and all our New Year's resolutions for 2012 are fresh in our minds, I would like to wish you all the best for this New Year and tickle your curiosity for your next travel. Italy, as always, will be ready to welcome you with a variety of adventurous propositions and unforgettable treasures.

First let us talk about some of the wonderful products particular to some of the small villages and towns of the northern part of our beautiful country. Some of these peculiar towns even hold festivals to promote these delicious products.
We could begin with Val di Non in Trentino Alto Adige and its delicious apples, then discover the uncontaminated land where the Fontina Cheese is produced, Aosta Valley and last but not least, sharpen your appetite with a slice of delicious Prosciutto from San Daniele in the Friuli Venezia Giulia region.
If such flavors are not sufficient to make you consider your next vacation in Italy, it is with great pleasure that we would like to draw your attention to a breathtaking pearl of white sands and crystalline blue sea: Capo Vaticano, on the Tyrrhenian Sea. A hidden treasure, that will make you forget for a moment the cold winter days of February.
Enjoy the reading, enjoy your virtual trip!
Tommaso De Poi
CEO Trips2Italy Group
This Cicero Newsletter features:
- Val Di Non: Place Of The Queen Apple Of Italy
- San Daniele: A Celebration Of Flavors In Friuli Venezia Giulia
- Fontina Cheese: Taste A Slice Of Aosta Valley
- Capo Vaticano: White Beaches And Blue Sea Of Calabria