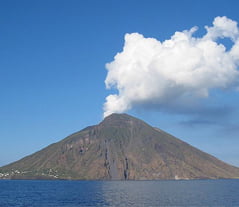 The island of Stromboli is a living testament to the beauty of fire. With an almost constant stream of small volcanic eruptions, visitors come from far and wide to view the fountains of orange magma against the night sky. The play of light and dark has inspired artists, poets and photographers for time immemorial, creating a healthy atmosphere for creative expression. In recent years, the townsfolk have welcomed troupes of dancers who echo the graceful sprays from Mother Nature in their work.

The Festa del Fuoco di Stromboli is the brainchild of August Schuldes, who spent the summers of his youth on the island. It seemed natural for him to bring his love of fire dancing to roost on this dynamic island. The stark black beaches, made from worn pumice ejaculated by the volcano, and city platforms provide the backdrops for movements and flames that interpret the passions and mysteries of life. Artists come from all over the world to engage and grow with their friends, and are housed in the homes of villagers, gathering the community.
The whole island expresses their creativity in this festival, as the children are invited to work with the artists for several days beforehand to learn new art skills and create items that may be used in the performances. Opening day is graced with a concert this year, by an American folk band, Rising Appalachia, and follows with 8-9 fire dancing performances over the next two weeks. The artists spend time after the festival on Stromboli, sharing and working on their craft in the fire sculpture garden.
A series of statues created from copper tubing and propane, you can walk past these elemental displays to talk with the dancers and watch them perfect new routines.
Stromboli is quiet, with no cars or buses polluting the air. The island is accessible by boat, which further adds to the feeling of isolation. When you visit, it is recommended to carry a flashlight with you, as it is too small to have street lamps.
There is a distinct lack of tourists this time of year, which adds to the appeal. You will find that the locals are welcoming and charming, offering hospitality to you as you enjoy an experience far off the beaten path. For a truly singular meal, search out the pizzeria built on the old volcano observation deck. Enjoy a slice and watch the explosions in comfort, sipping on a local wine.
Trips2Italy will be glad to assist you with travel arrangements to Stromboli and the festival. The Festa del Fuoco di Stromboli runs from August 27- September 10, 2011, with children's workshops from August 22-27.