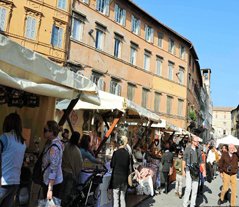 In the Italian region of Umbria, fairs are common events and they have a rich history that dates back to medieval times.  The earliest fairs in this area were celebrations of Ognisanti (All Saints Day) at the beginning of November.  These fairs developed into bustling markets that allowed commerce between medieval towns to flourish, and they also provided the opportunity for people to gather provisions for the winter.  In modern times, these markets have greatly expanded, but much of the original spirit remains.
Perugia's Fiera dei Morti (Fair of the Dead) is one of the largest modern fairs in the region.  Like in medieval times, the event coincides with All Saints' Day lasting from November 1st to November 5th each year.  Perugia's earliest Fair of the Dead is believed to have taken place in the year 1260.  It was originally referred to as All Saints Fair until the beginning of the 19th century where the name was changed to the current Fair of the Dead to commemorate All Souls' Day.
Today, the Fair of the Dead is held in the large, open space of Pian di Massiano and it features over 500 booths with various goods including leather, clothing, shoes, books, house wares, hardware, crafts, and specialty culinary items.  It can be said that over the years the fair has expanded into a true market drawing merchants and artisans from all over Italy fostering commerce in Perugia and the surrounding areas. Besides the extensive market, the fair also hosts exhibitions and performances by street-artists, jugglers, and puppeteers.  Finally, there is also an amusement park for children adjacent to the fair locally known as "baracconi" which remains open until the end of November.
Every year the fair attracts thousands of domestic and international visitors to Perugia's historic city center.  It has become one of the most important cultural traditions in the area.  The organizers of the fair have facilitated transportation for tourists by taking advantage of Perugia's innovative Minimetrò which quickly transports visitors from the old town area of Perugia to Pian di Massiano where the fair is held.  Specific aspects of the fair not to be missed include Perugian delicacies such as roast pork sandwiches as well as the Fave dei Morti (Beans of the Dead) which are pastries similar to amaretti made specifically during this time of the year to commemorate the dead.