The Holiday Season may look a little different this year, but that won't stop us from dreaming of postcard-perfect snowcapped mountain landscapes and cups full of decadent hot chocolate. During this time of year, there are typically many fascinating cultural traditions occurring in Italy, with perhaps the most beloved by locals and visitors alike being the annual Mercatini di Natale (Christmas Markets).
As the days grow shorter and snow begins to fall, Italians gather in the large squares of their cities and towns to celebrate the season and take in the sights and sounds of the annual Christmas Markets. Considering Italy's illustrious history, the Mercatini are a relatively new tradition, yet one that is highly anticipated each year.
In Europe, the traditional Christmas Markets were initiated by Germanic cultures during the Middle Ages to celebrate the Feast Day of St. Nicholas. Today, the largest and most historic markets are located in Germany, Switzerland, and Austria. The jovial spectacles filled with music, lights, local handicrafts, and food, eventually made their way south to Italy's Trentino-Alto Adige region, tucked away in the picturesque Dolomite Alps.
One of Italy's earliest Mercatini di Natale modeled after the German markets was held in Bolzano's sprawling Piazza Walther in 1990. From here, the Germanic-style markets spread through South Tyrol, Alto Adige, and the rest of Italy.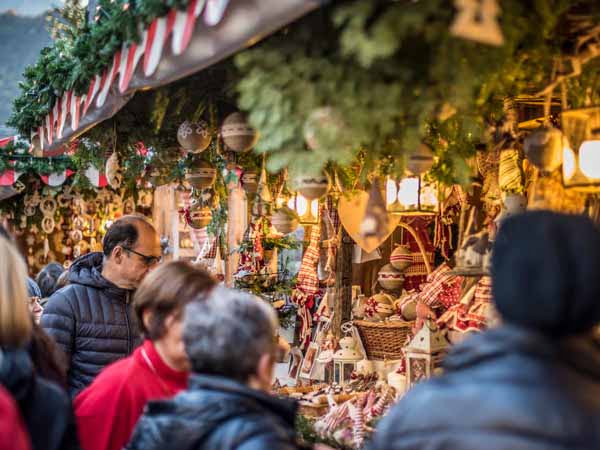 Specific characteristics of the Mercatini can vary from town to town, but there is one guarantee—all things Christmas related. The markets themselves consist of small stands set up in the city's main streets and squares. Here local artisans sell Christmas decorations, culinary products, artisanal crafts, toys, souvenirs, and Christmas gifts. Timing can vary, though usually the Christmas Markets open at the beginning of Advent and end on or around the Epiphany.
To add to the festivities, the streets and squares that host the markets are decked out with all of the appropriate seasonal trappings ranging from large Christmas trees to tinsel, ornaments, and the characteristic lights that shine brightly in the dark winter nights. These marvelous sights are accompanied by traditional carols and festive choirs.
Many Mercatini may also feature performances tied to the season such as living nativity scenes or reenactments of the birth of Christ. Depending on the size of the market, you may also find interactive events such as cooking classes and games. Truly, these whimsical markets offer plenty of fun for the whole family to enjoy!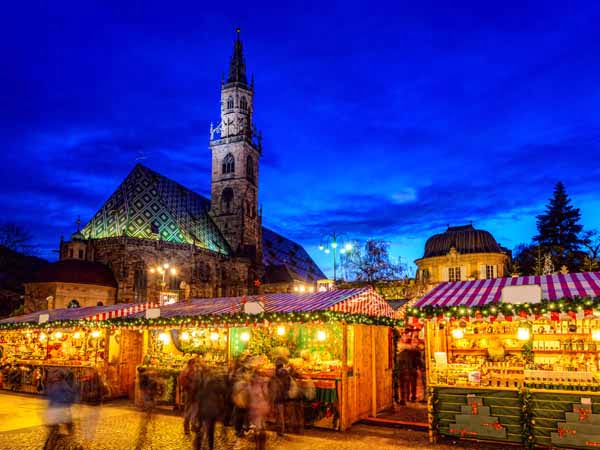 Naturally, since these markets take place in Italy, there are many local culinary specialties to taste. As you enter a Christmas Market, the bright colors and sounds will likely catch your attention first, but then while walking from stand to stand many delicious aromas will greet you.
Though it will vary depending on what part of Italy you find yourself in, seasonal staples at the Mercatini include local cured meats and sausages, freshly baked bread, hot chocolate (the real deal made with milk and melted chocolate), and vin brulé (the Italian Alps version of mulled wine). Also on the menu are some of the very best local sweets ranging from apple strudel to panforte (a chewy dessert made with fruits and nuts).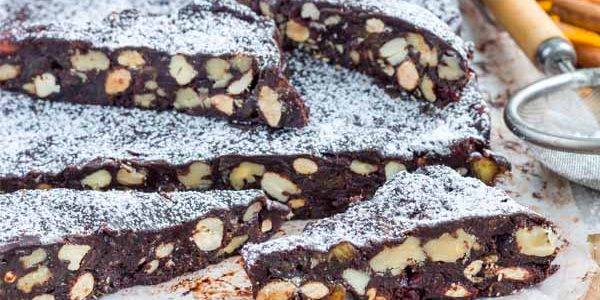 Since nearly every major city and town in Italy hosts its own version of Mercatini di Natale, there are plenty of options to choose from! Below you will find a brief summary of the most evocative markets, though this is by no means an exhaustive list. Certainly, if you find yourself in Italy in December, you will have a phenomenal time no matter which Christmas Market you visit.
In addition to Bolzano, many cities, both large and small, in Trentino-Alto Adige celebrate the Holiday Season with Mercatini di Natale. Some of the largest and most important can be found in Trento, Merano, Brunico, Bressanone, and Vipiteno.
Many of these markets are renowned for their unique traditions. For example, one building in Bolzano's city center (the former home of astronomer Max Valier) is transformed each year into a giant Advent Calendar implementing 24 of the building's windows. As each day of Advent passes, one window is opened to reveal lights and a unique Christmas image.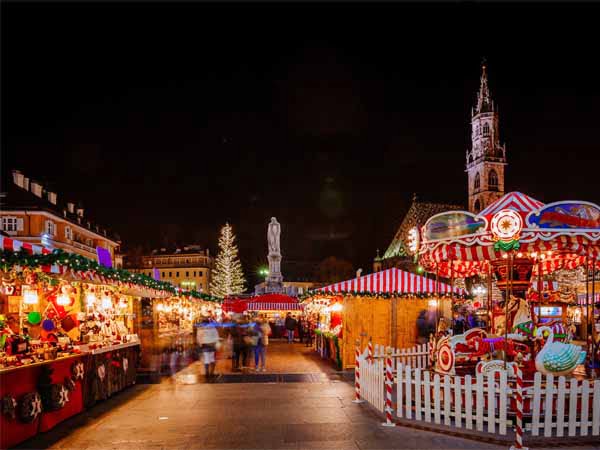 The quaint Alpine city of Aosta transforms into a certifiable Winter Wonderland from the end of November to the beginning of January. Held in the city's iconic Ancient Roman Theater, this celebration, called Marché Vert Nöel, features charming wooden chalets beautifully decorated to fit the occasion. There are plenty of handmade products on display from soaps and ceramics to wool and lace. Be sure to taste Aosta's signature sweets and wines as well—you won't be disappointed!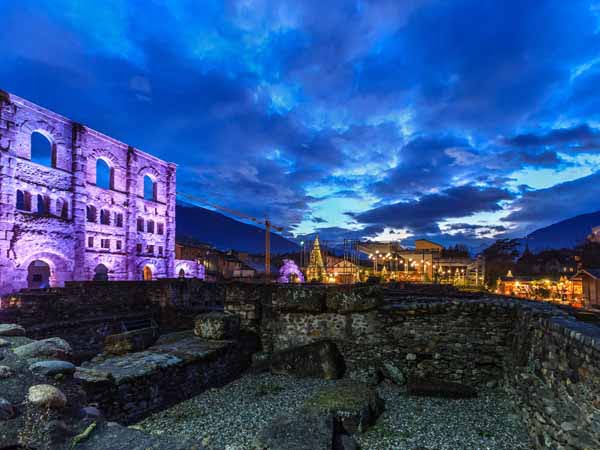 For one full month each year, Florence's iconic Piazza Santa Croce transports visitors to a delightful German village via the Weihnachtsmarkt German Market. Outside of Trentino-Alto Adige, this is perhaps one of the best intersections of German and Italian culture during the Christmas Season. All of the traditional culinary goodies and remarkable artisanal crafts can be found here in addition to beautiful light displays with the added bonus of a Renaissance backdrop.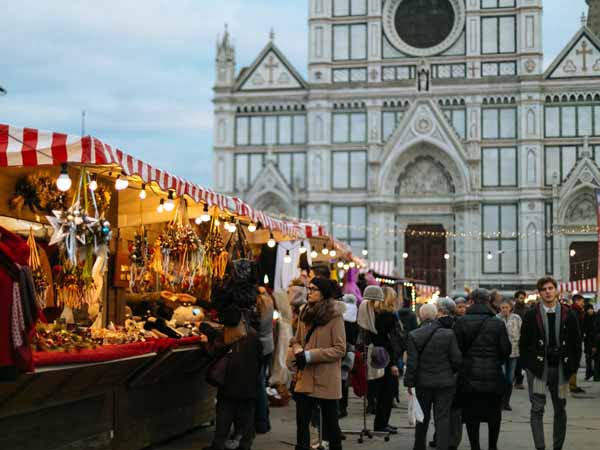 Milan's Christmas Market is worth mentioning not only because it is one of the largest in Italy, but because its history is distinct from the Germanic tradition. Characterized as more of a Christmas Fair than a market, the event is called Oh Bej! Oh Bej! (How Beautiful! How Beautiful!) and it is held from December 7 until the following Sunday to coincidence with the Feast of St. Ambrose, the city's patron Saint. The perfect place to celebrate the beginning of Christmastime and to purchase gifts, sweets, and treats (including roasted chestnuts), today the fair takes place outside of Milan's iconic Sforza Castle.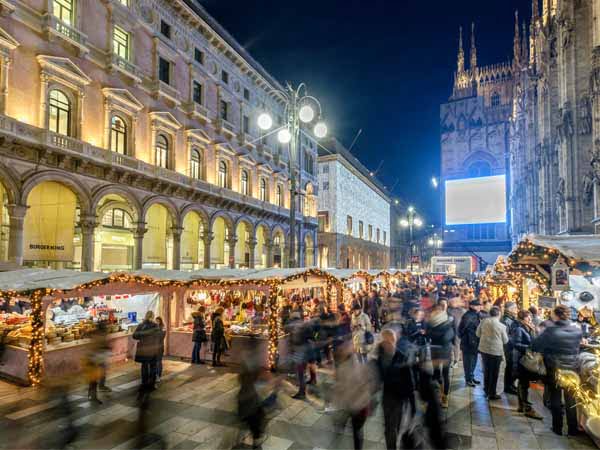 We hope that learning more about Italy's Mercatini di Natale has brought you a bit of Holiday Cheer. Perhaps you may have even discovered a few new places to visit in the future. No matter how you will be celebrating this year, on behalf of the whole Trips 2 Italy team we wish you a peaceful Holiday Season.