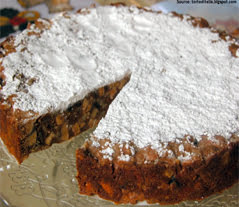 In Italy there are many tastes and traditions to experience. For example in Siena, one of the most charming cities of Tuscany, there is one cake which is a piece of culture for the people of Siena: The Panforte.
An attempting to translate "Panforte" in American English can sound like "strong bread" but Panforte is not a bread, is a cake. A circle shaped cake that is basically composed with candied, spices and dried fruit. There are two different type of Panforte. The first one is the "margherita" a Panforte that respects the main ingredients and it is easy to eat. The second one is the "Panpepato" this is the powered version of Panforte, has got a darker color and is covered with pepper. These cakes are very energetic and tasty, and when you stroll through the streets of Siena you can find a lot of bakeries that prepare every day these cakes spreading their sweets smells throughout Siena.
Around the Panforte there are a lot of different tales and legends. One of the legend says that Panpepato was the main contributor for the Siena faction in the winning of the battle of Montespertoli in 1260 against the florentines. During this battle the florentines used stockpile of standard foods, instead, even if the Siena faction was outnumbered in relation to florentines, could count on the energy of Panpepato which permitted to resist and win the battle. The legend told that the Panpepato was created by a nun , sister Berta, that when she was seeing her community, starving for the siege and her people lacking of energies and strength, decided to prepare a cake with almonds and spicy spices to energize all her fellow citizens.
Another tale, said that the Panpepato had some invigorating and aphrodisiac properties, that's why in Siena was considered a powerful remedy against matrimonial crisis.
Another peculiar story related to Panforte, is that in the countrysides of Siena is not only a tasty cake but also a game. This game consist in throwing, a wrapped up piece of Panforte, the nearest as possible to the opposite edge of the table. The winner is who is able to get nearer to the edge.
Panforte is something that every visitor, tourist or food lover have to experience especially in Siena, because eating it freshly baked through streets it's really a different tasting sensation.