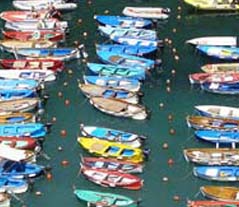 Very popular with both foreign and and Italian travellers, the delightful Cinque terre – literally translated "the five lands" - is an extraordinary area offering scenarios among the most  charming in Italy. Five villages makes up the Cinque Terre: Monterosso, Vernazza, Corniglia, Manarola and Riomaggiore.

Each village is linked  by train or walking paths. 5 Terrre Colorful view of Dock Some of these coastal paths are suited  to any walker, as they are flat and well paved like the famous "lover's lane".
Other footpaths are  more binding,  that means they are suited to the well equipped and trained walkers. Anyone can find in this land  his own walking opportunity. The mountains, covered by terraced  vineyards, drop precipitously  into the Mediterranean sea.
Fishing scenes, narrow lanes, picturesque views, lemon groves, tiny harbors... Everything  contribute   to create here a peaceful atmosphere and you will think to be wandering into a film set.
To read more about le cinque terre, Liguria and  related packages:  All About Liguria 5 Terre Italian Riviera & Travel