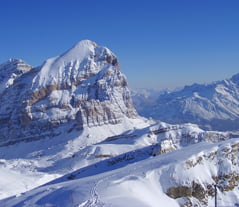 Dolomites are one of the most dramatic spots and a mecca for mountains-lovers. They take their name from the French geologist De Dolomieu, who first studied and identified the composition of the sedimentary limestone. The Dolomites are an ancient coral reef that, over a 100 million years ago, were covered with a tropical forest and a warm sea, as shown through the fossil record. Then, water receded and what once was the sea-bed transformed into an impressive mountain range with peaks ranging between 2000 and 3000 meters. Glaciers in the Ice Age, atmospheric erosion and time, breathtakingly shaped pinnacles, large valleys and stone towers create an impressive panorama.
To practice outdoor sports in the grand setting of the Dolomites is unforgettable experience, you enjoy such options as downhill skiing, cross country skiing, ski mountaineering, snowboarding, free climbing or strolling through it's valleys.
The Ambassador and permanent Delegate of Spain to UNESCO, Maria Jesus San Segundo,
who chairs The World Heritage Committee, recently included the Dolomites in the World Heritage list of 890 properties. It was officially acknowledged that they feature one of the most spectacular mountain-landscapes on the planet.
To read more about winter packages special offers: