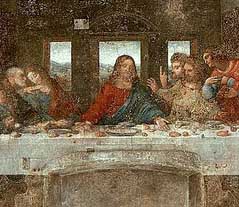 The wonderful church of Santa Maria delle Grazie is a Dominican convent of immense architectural value and a rich testament to the Renaissance in Milan.

Probably designed by Bramante for Francesco I Sforza, Duke of Milan, work on the site began in 1463, and several additions and redesigns since then have created a multi-form structure, topped by a cupola. The fame of the church is found in an artistic jewel, located in the refectory: the masterpiece Last Supper, by Leonardo DaVinci. During WWII, Allied planes on a bombing run hit the church and convent on the night of 15 August 1943.
Thankfully, the walls holding the Last Supper had been sandbagged by the Italian authorities and the painting was saved for future generations. The rest of the church was not as fortunate, and was restored in the years afterwards.
In addition to the Last Supper, Santa Maria delle Grazie was also the keeper of Titan's work, The Crowing with Thorns. After Napoleon's conquest of Milan in 1797, that particular painting found a home in the Louvre.
To read more about Milan:  All about Milan & Lombardy Travel.