How to live Italy from Afar
It's all about food and wine
Though we may not be able to travel right now, there are plenty of small things you can do to bring Italy to your home.
From lengthy meals to high-quality ingredients, it's no secret that food and Italian culture go hand in hand. Throughout Italy, cooking and eating are truly a way of life. By emulating Italian tradition, there are several simple habits you can follow to make your meals at home feel a little more Italian. Continue reading to discover quintessential ways to feel Italian no matter where you happen to be.
In Italy, meals are multi-hour affairs best enjoyed in the good company of family and friends. More than just eating delicious food, meals are a time to gather together and engage in long, passionate conversations. This also means leaving the table is discouraged until each course is finished. One exception would be smoking breaks, which are acceptable towards the end of the meal around the dessert/coffee course.
In order to dine like the Italians, there are a few other "ground rules" to keep in mind. Namely, proceeding through the courses is a leisurely process, and subsequent courses are not presented until everyone is ready, however long that may take. Furthermore, when dining at home, the table is always set with a tablecloth and place settings that can range from plain to elaborate, depending on the meal. This quaint and thoughtful task denotes a kind of reverence, which symbolizes the importance of sharing a meal in Italy.
In addition to the main courses, meals are usually bookended with small accompaniments, such as cheese and salumi at the beginning, as well as fruit, dessert, coffee (espresso), and a digestif at the end of the meal. Finally, a proper Italian meal should always feature wine, which is meant to complement the flavors of the dishes. Start your meal with a glass of bubbly Prosecco or Franciacorta Brut over appetizers, choose a dry, fruit-forward white such as Pinot Grigio or Soave to accompany fish, seafood pasta, or white meat dishes. For a meal consisting of red meats, a Brunello di Montalcino, Amarone, or Barbera will make for a great pairing. To end on a perfectly sweet note over dessert, a Vin Santo from Tuscany, Lambrusco from Emilia-Romagna, or Moscato d'Asti from Piedmont will be the perfect fit.
Before parting ways, it's customary for Italians to say goodbye several times prior to cutting conversation with friends or family. As a result, the conclusion of the meal and the final "Ciaos" have a tendency to extend the meal by 10 to 15 minutes, depending on how many are present. Be sure to allow plenty of time for your Italian dining experience and Buon Appetito!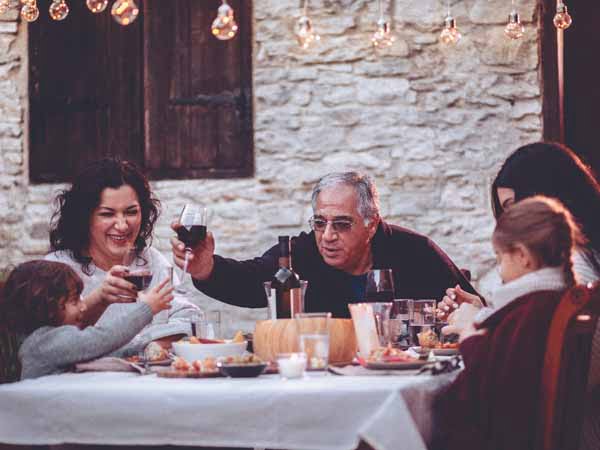 Let your inner Italian chef out
When stocking your Italian kitchen for optimal deliciousness, there are certain staples that should not be overlooked. Aside from fresh seasonal ingredients, which are key in Italian cuisine, the usual suspects include olive oil for cooking, extra virgin olive oil for finishing dishes, coarse sea salt to season pasta water, and rich cheeses such as Parmigiano-Reggiano or Grana Padano, which add sublime flavor when generously grated atop pasta or rice dishes.
Pasta should be abundant and stocked in a variety of shapes and sizes, ready to spring into action at a moment's notice. Pasta's versatility allows for a quick and simple meal (think pasta al pomodoro) though it can also be dressed up with your favorite decadent ingredients, such as porcini mushrooms.
Rice (specifically arborio or carnaroli) is great to have in your pantry to create a slow-cooked and creamy risotto bursting with flavor. For a basic risotto, you'll need butter, onion, broth, wine, and plenty of Parmigiano-Reggiano cheese. After mastering the technique, sprinkle in saffron to enjoy risotto alla milanese or feel free to experiment with local ingredients.
Tomatoes or tomato sauce should always be on hand, ready to envelop freshly cooked pasta or to be layered into other dishes. For the best sauce, look for an Italian brand at your local grocery store or create your own with peeled tomatoes, garlic, and extra virgin olive oil.
Some commonly used herbs to keep in your kitchen include fresh basil, flat leaf parsley, sage and rosemary as well as dried bay leaves and oregano. Fresh garlic and onions should also be readily available as they are used to enhance pasta, risotto, and meat dishes.
Natural accompaniments to any Italian meal include cured meats (prosciutto, soppressata, speck — there are no wrong answers here), fresh as well as aged cheeses, and plenty of authentic Italian wine, which can be red, white, or sparkling depending on the course or dishes that are served.
To get your culinary experience started, here are a few pasta recipes to try making at home: aglio, olio e peperoncino (garlic, oil, and hot pepper), pasta fredda, homemade pesto, and carbonara.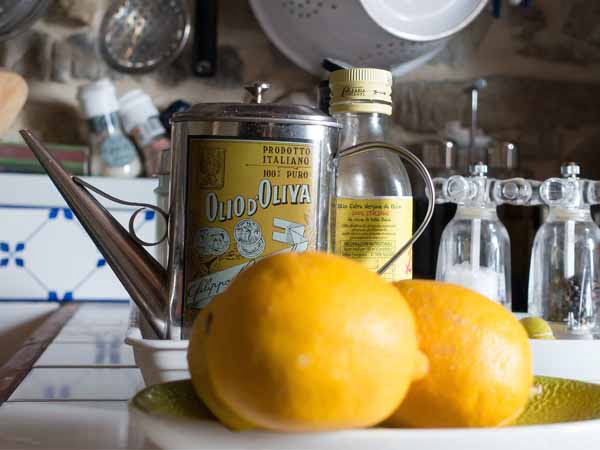 There's always time for Pizza
Generally speaking, most Italian meals tend to be cooked at home and shared with family. However, many Italians will periodically enjoy a night out at a nearby pizzeria with a group of friends or family. Pizza can be made at home too, but nothing quite compares to the perfect crust and remarkable flavors imparted by a traditional wood burning oven. In the United States, more and more restaurants are starting to offer thin-crust pizzas baked to perfection in wood burning ovens — one delicious way to experience a small taste of Italy from your home.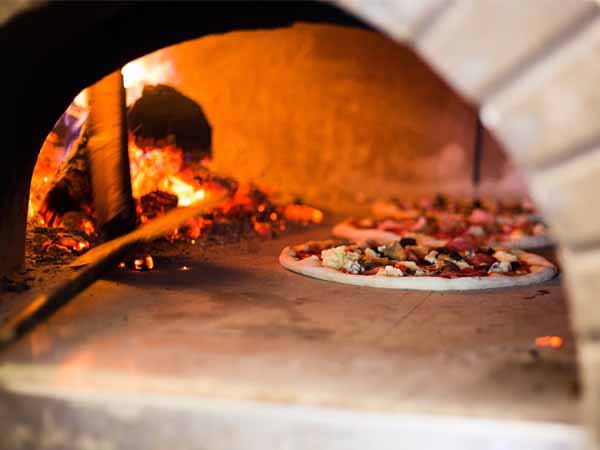 What happens at the "Bar"?
From morning coffee to aperitivo hour, daily life in Italy revolves around the bar, a word that can best be translated as café or coffee shop. These bars, ubiquitous in Italian city centers, are the perfect place to stop for a refreshment any time of the day.

Pop by in the morning to taste a traditional Italian breakfast featuring a fresh pastry, typically a brioche or cornetto with various fillings, and a coffee, such as cappuccino, which in Italy is exclusively enjoyed in the morning. For a quick lunch on the go, stop by a bar and grab a panino or tramezzino, two popular types of Italian sandwiches. If you're looking for a midday pick-me-up, local bars will offer a wide selection of refreshing beverages ranging from cold tea and fruit juices to an energizing espresso. As the sun sets, head to a bar to enjoy the Italian tradition known as aperitivo, featuring cocktails and delicious small plates. Finally, be sure to wrap up your night with a relaxing tisana (herbal tea) while enjoying a conversation with good company.
No matter what time it is, stopping by the neighborhood bar for a refreshment is the perfect excuse to socialize and converse with friends. Consider recreating a few Italian bar staples at home or putting your own twist on a beloved classic, such as the panino. Coffee lovers may wish to invest in a capsule espresso machine, an accessible way to savor the art of Italian coffee at home.
Additionally, whether drinking coffee standing "al banco" or seated at a patio table, one thing you'll never see at an Italian bar is a to-go cup; therefore, it you are trying to experience a bit of that Italian bar vibe in your city, visit a locally owned coffee shop where you are more likely to be served with ceramic ware.
From family dinners to aperitivi with friends, there are plenty of ways to embrace the Italian way of life from the comfort of your home, whether you have been to Italy or not. Socializing in Italy is all about savoring small moments and engaging in a slower-paced lifestyle. In order to bring Italy home, all you need to do is pop open a bottle of wine and get ready to spend an evening enjoying the flavors of Italy with good company.