In Italy it is all about Food and Wine
More Than Cocktail Hour: The Art of the Italian Aperitivo
Another great way in to let your inner Italian shine is to embrace the time-honored tradition of aperitivo. A staple of Italian bar culture, the aperitivo is an excuse to spend time in the company of good friends after work and to enjoy a cocktail plus a few snacks prior to dinner. Continue reading to learn more about the aperitivo and how you can adopt this evening ritual.
Ask any Italian and they'll tell you that this pre-dinner version of happy hour is the best time to socialize and unwind. Keeping with the Italian tradition of always accompanying alcohol with food, aperitivi feature a rich spread of delicious finger foods that are meant to be shared. The purpose of the aperitivo is to stimulate the appetite, as opposed to an excuse for excessive drinking. This modern-day ritual dates back to the late 1700s and mainly takes place in the evening between six and nine.
Though today Milan is the city most closely associated with the aperitivo, this social event actually started in Turin thanks to Antonio Benedetto Carpano. In 1786, Carpano was experimenting with fortified wines and ended up inventing vermouth after infusing herbs and spices into wine. Carpano's vermouth became the first drink classified as an aperitivo to be served with finger foods and thus a legend was born.
Over the course of the 1800s and 1900s, the aperitivo evolved and expanded to include a wide variety of bitter cocktails with low alcohol contents, such as the historic Milano-Torino made with Campari and vermouth, as well as wines. The aperitivo can now be enjoyed throughout Italy in every major city, with certain areas imparting their own unique twists on the tradition. For example, in Southern Italy, specifically at the beaches of coastal towns, aperitivi extend late into the night and can be accompanied by music and other events.
Today in Italy, aperitivi are always paired with food, though there are two different ways the food may be served. After ordering your drink, the waiter may bring a small tray of snacks for you to share with friends seated at your table. These are usually bite-sized foods such as olives, nuts, or chips. Alternatively, some bars offer an aperitivo buffet, which you can access once you have paid for your drink. Typically composed of a variety of finger foods featuring fresh and local ingredients, the buffet is not meant to replace dinner; rather the unwritten rule is that each drink you purchase is equivalent to one plate of food at the buffet.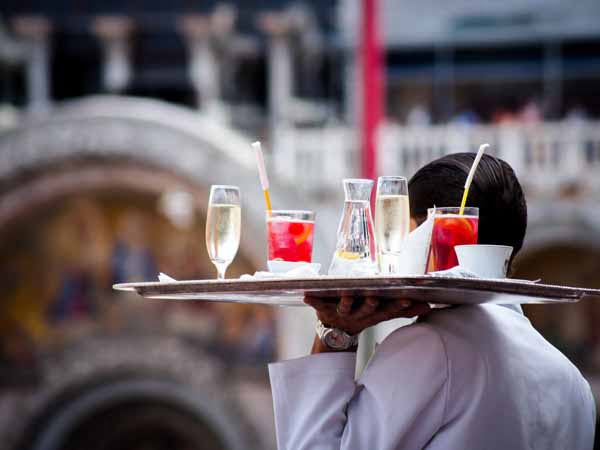 How to plan the perfect italian aperitivo at home
For an extra special evening, consider recreating a classic aperitivo for your family and friends. With countless choices for food and drink, focus on modest options and plan a wide selection to ensure that there is something for everyone.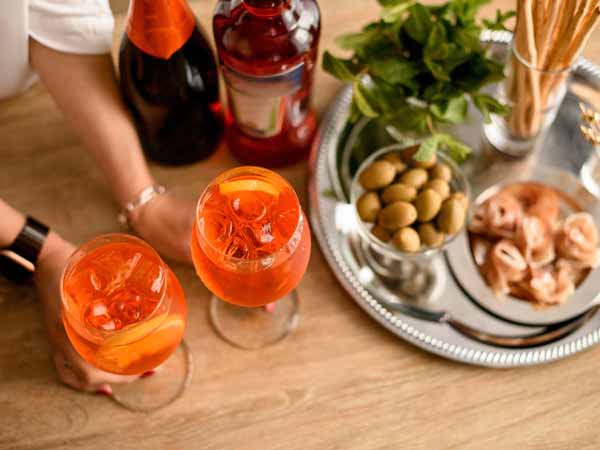 Typical aperitivo fare includes simple snacks such as taralli, chips, olives, crostini, spreads, and nuts. The portions should be small and easy to eat while standing or engaging in conversation. You can also get a little more elaborate, while still remaining in the realm of finger foods, by creating skewers (consider preparing a variety with meat, veggies, and/or seafood) as well as meatballs, frittata cut into small squares, and focaccia. Additionally, a charcuterie board with a range of cured meats and cheeses paired with honey, jam, and dried fruit is always a hit.
Feel free to get creative and incorporate Italian ingredients as well as your own local favorites. You could also plan your menu around a specific theme, let's say the coast, and feature décor and small plates tied to that theme, like smoked salmon crostini.
From Crodino to beer, what to drink at aperitivo time?
Cocktails are by far the most popular type of aperitivo drink, but there are actually several different categories of drinks you could choose from when going out for an aperitivo at an Italian bar.
These include bottled aperitivi, which can have alcohol (such as Campari soda) or not (such as Crodino). You could also request a variety of soft drinks instead of an alcoholic drink, still giving you access to the finger foods.
The original aperitivo, vermouth, can be enjoyed as part of a cocktail or on its own. When you order straight vermouth, this aromatic wine is served with different garnishes depending on its type, for example: a lemon slice with white vermouth, an orange slice with red vermouth, and green olives with dry vermouth.
The next category, which is wine, needs no introduction. Typically, the wine served during aperitivo tends to be of the dry and white variety or a sparkling wine, particularly Prosecco. Though a little less popular in Italy, rosé or sherry can be customarily enjoyed during an aperitivo as well.
Bitters, the main base for aperitivo cocktails, can be ordered on their own. Examples include Aperol, Campari, Cynar, Biancosarti, and Mezzoemezzo Nardini. These are typically served on the rocks and may be garnished with a citrus peel or wedge.
The final category is beer. Though Italian beer is often overshadowed by Italian wine, there are quite a few excellent beers to try depending on what part of Italy you are visiting. In terms of aperitivo, light beers, such as lagers, tend to be the norm closely followed by bitter beers with hoppy flavors, such as IPA.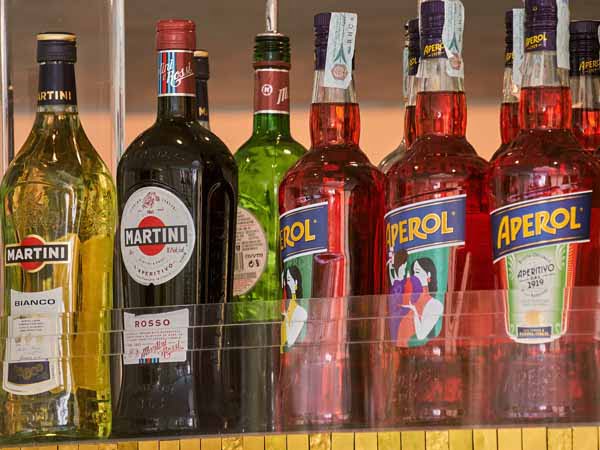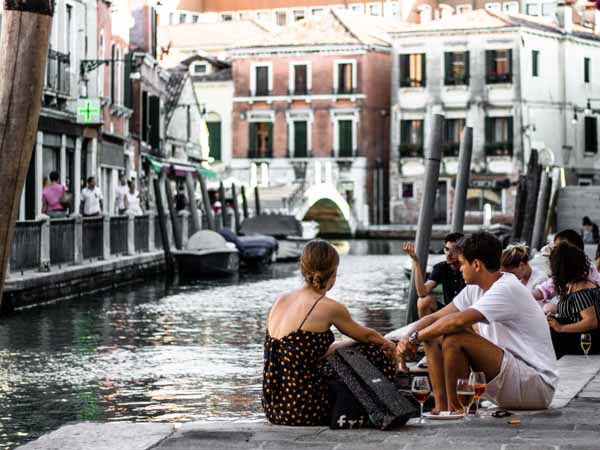 What Italian Cocktail should you serve during aperitivo?
The cocktails served during aperitivo tend to have strong, distinct flavors with bitter, acidic, and dry notes. Depending on the ingredients used, cocktails may be sparkling or have an herbaceous quality.
For hosting the perfect Italian aperitivo at home, five iconic Italian cocktails are indispensable. These are the Aperol Spritz (also known as Spritz Veneziano), as well as the Negroni, Bellini, Americano, and Hugo. We've compiled accessible recipes for creating these cocktails at home. Each has its own characteristics and we encourage you to try them all in order to discover your favorite(s). From the refreshing bubbles of the Aperol Spritz and the Hugo to the classic pairing of vermouth and Campari featured in the Negroni and Americano or the fruity aroma of a Bellini, you can't go wrong with any of these drinks!
For lovers of cocktails and good company, there's no better way to bring Italy to your home than planning an authentic aperitivo. After a busy work day, take a moment to unwind and reflect in between sips of Prosecco and bites of Italian cheese and cured meats. Trust the Italians, there's no better evening ritual than the aperitivo.