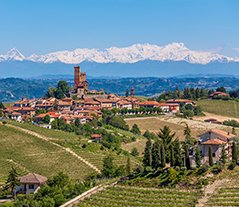 The untouched Piedmont region can be considered a wonderful off-the-beaten path destination since most of the region lies outside of the focus of Italy's mass tourism. It is known for its breathtaking mountains, charming villages, magnificent lakes, exquisite cuisine, and noteworthy wines. Turin, the first capital of Italy, is home to the Shroud of Turin, the largest Egyptian museum in Europe, lavish royal palaces, and eminent chocolate shops. Nearby Asti is known for its ancient structures, such as historical churches and the outer city walls, and for producing sweet wines, including Moscato d'Asti. Piedmont also offers a perfect destination for those seeking relaxation on the second largest lake in Italy: Lake Maggiore. Stresa, Arona, and Verbania are wonderful towns for enjoying a romantic picnic along the lake and taking in stunning panoramas.
In addition, the Piedmont region is home to Italy's most elegant dishes, thanks to a prized, local ingredient: the truffle. The eminent white truffles can found mostly in the countryside around Alba, and the main truffle season lasts from mid-September to the end of December. Besides these exquisite truffles, visitors to Piedmont will enjoy sampling unforgettable handmade pastas, meat from the highly revered Piedmontese cattle, and delicate cheeses. For couples with a sweet tooth, Piedmont is also worth a visit because it is considered to be the center of Italy's rich chocolate tradition. The capital of Piedmont, Turin, was not only the birthplace of the delicious gianduiotto chocolate, but it is also home to some of the nation's most illustrious and innovative chocolatiers, not to mention unique pastries and local cookies.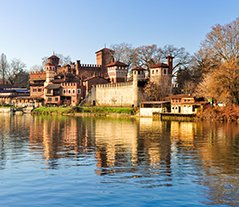 Excellent wines are also produced in the region including Barolo and Barbera red wines and Moscato d'Asti white wine. Speaking of Asti, this charming town also happens to be the birthplace of the inimitable Nutella hazelnut spread.
As for weather, the best time to visit the Piedmont region is towards the end of September until the end of October. During this period the days are still relatively warm and there is the possibility to witness the grape harvest in the hilly areas of the region, such as Monferrato and Langhe. Spring can also be a nice time to visit, even though it can be rainy in some areas, and of course the summer provides great weather for visiting the Piedmont region as well.
Ultimately the Piedmont region offers the best of Italy (beautiful panoramas, delicious food and wine, romantic settings, and much more) in a compact area that is mostly free from droves of tourists. For all of these reasons, the Piedmont region truly deserves to be on your list of possible honeymoon destinations.