How Do You Say Happy Hour In Italian? Aperitivo!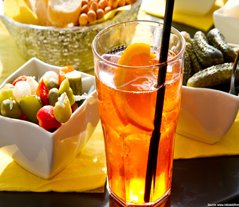 Milan is known for many things…fashion, finance, industry, museums and universities. But the second largest city in Italy is also the capital of the Aperitivo.
Go anywhere in Milan from 6-9pm and you will experience what is the origin of the Happy Hour. Aperitivo is the time of day before dinner when drinks and light snacks are served. The drinks can be everything from Martinis, Mojitos, Bellinis, Mimosas and Proseccos. Or, you can enjoy non-alcoholic drinks such as the famous Italian Sanbitter, which is red in color with a bitter herbal and citrus flavor, or the many delicious and healthy fruity and alcohol-free cocktails.
Like most Happy Hours that are known in the United States, drinks are served at a fixed price. What distinguishes the Aperitivo is that drinks are accompanied by a wide variety of finger foods, free buffets, plates of pasta, bruschetta, focaccia or meats and cheeses.
The tradition of the Aperitivo was created in Milan as a daily social event, where people can gather together after a long day to socialize, discuss current events and whet their appetites before a late dinner with their families. Over time, the tradition caught on in other cities, so now you can enjoy an authentic Aperitivo anywhere in Italy.  For those who choose to experience the original home of the Aperitivo, you can rest up after a visit to the beautiful Duomo di Milano, the Sforzesco Castle, the famous Galleria Vittorio Emanuele or simply some of the many boutiques of Via della Spiga. Or, rest up in preparation for an evening at the Navigli (canals) district, with its popular nightlife from Monday to Sunday night.
Wherever you are in Italy, an Aperitivo is a traditional, and delicious, part of the culture. Salute!