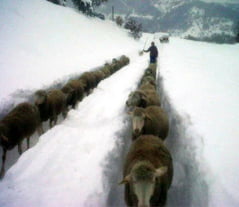 Although winter arrived late to most of Europe, this past winter, Italy and especially the Apennine region have experienced an exceptional snowfall that temporarily buried some towns and small villages under an incredible amount of fresh snow.
In the Abruzzo region, the owners of a Vacation Farm or "Agriturismo" were left isolated in the mountains for close to 72 hours due to the huge quantity of snow.
The 400 sheep living in the farm could not wait for the sun to arrive and melt the snow; instead they tracked a path into it creating an impressive snow walled trail with the help of some horses.
Thanks to these impatient yet smart fury animals, the farm owners were able to reach the village and obtain some supplies. Farmers where not the only who benefitted from the ingenious sheep's work, birds were happy campers as well as they were able to feed off undigested cereals released from sheep's droppings as they struggled to feed in land completely covered with snow.