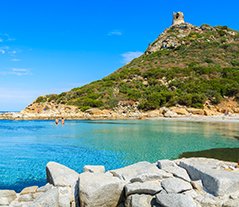 If the beauty of Italy's coasts has caught your attention, but you aren't sure where to start, here are three stunning destinations to consider when planning your upcoming honeymoon:
Costa Smeralda, Sardinia
Costa Smeralda stretches for 12 miles along the northeast coast of the island of Sardinia. It is a famous hotspot for both celebrities and wealthy elites. Offering pristine blue waters and white sandy beaches, this exclusive coastline is the perfect location for relaxing on the beach, snorkeling in the sea, and exploring exotic wildlife. For an intimate and romantic excursion, climb to the top of Mount Mora, the highest peak in Sardinia, to experience the most breathtaking sunsets over the water of the Mediterranean and stunning panoramas. Couples seeking extravagant activities should stroll the streets of Porto Cervo and spend some time around Piazza del Principe shopping in elegant boutiques, enjoying meals at exquisite restaurants, and  partaking in the town's famous nightlife. Other activities, which can further diversify your honeymoon, include visiting Sardinia's many cryptic ruins, enjoying picnics on the beach, attending outdoor festivals, and admiring the historic regatta boat races.
Taormina, Sicily
Couples looking for a relaxing honeymoon should consider traveling to the island of Sicily where daily life happens at a slower pace. This southern Italian region is known for its pristine blue water, sunny skies, and breathtaking landscapes.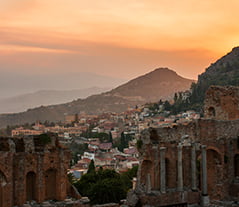 Many romantic activities are available for couples who wish to unwind including scooter rentals, relaxing on beautiful beaches, and sailing. The city of Taormina, in particular, is worth mentioning due to its immaculate beaches, intriguing historical structures, and delicious cuisine. Couples can take romantic walks through the town's historic streets or admire ancient ruins, such as the Greek amphitheater that provides striking views of the sea and surrounding area. More adventurous couples can choose to go horseback riding or to hike up nearby Mount Etna, one of the world's most active volcanoes. Couples can also explore the area around the volcano during Jeep 4x4 or helicopter tours.
Porto Venere, Liguria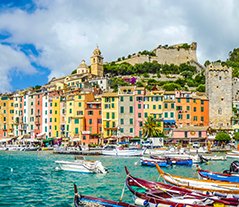 Porto Venere, a UNESCO World Heritage site that dates back to the middle of the first century B.C., is composed of three villages (Fezzano, Le Grazie, and Porto Venere), and three islands (Palmaria, Tino, and Tinetto). Both Porto Venere and nearby Cinque Terre are a testament to the human capacity to transform an environment without damaging the natural landscape. One highlight is the Doria Castle found atop a cliff above the town's colorful buildings and the pristine sea, a perfect frame for your honeymoon photo shoot. The area has inspired many poets including Lord Byron and Percy Bysshe Shelley, both of whom are believed to have enjoyed swimming in the Gulf of Poets and exploring the nearby sea caves.