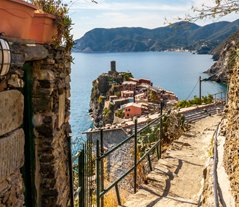 Lover's Lane, Juliet's Wall, Love Lock Bridge; we have all heard about these romantic destinations created to unite two lovers together for all time, but have many of us actually seen them?  Legends say that a lock closed by a couple with a key tossed into a river can bind two souls together; a letter written to the famous Juliet can bring hope for two lovers to reunite once again. Every person who reads these legends wonders if they are true and secretly wish to experience a location that can hold such magic. Well wish no longer. Cinque Terre's Via dell'Amore is just this type of wonderful place.
Originally created as a path between the small cities of Riomaggiore and Manarola, Via dell'Amore, Pathway of Love, is now one of the most widely known attractions for couples wishing to meet and stroll along the paved walkways excavated from the hard rock overlooking the tranquil waters below and the lush vineyards of the surrounding areas. History states that couples from the neighboring towns used these paths to meet in secret. These couples would become lovers and eventually run away together. As years passed the walkways were paved to create smoother passes, and tunnels were built in certain areas to protect the roads from weather or rock slides. For the price of a day ticket, access can be gained to these pathways to be enjoyed with your special someone. For those that prefer a hike, there are trails designated for this type of activity, which will offer beautiful views among the lush greenery.
Visit the Pathway of Love to create those memories with that special someone that can withstand the test of time. Why witness love through a television screen or book when you can experience it for yourself? This romantic walkway offers and enchanting feel in the air, allowing you to experience Italy in a unique way in an effort to create one of the best love stories you could ever imagine…your own. The experience will be unforgettable and the memories will last a lifetime.