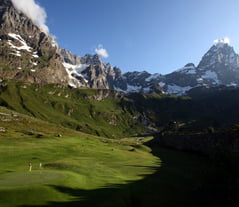 Many people do not think of golf when they think of Italy, but Italy is actually home to some of the most renowned courses in the world. Whether you are looking for a luxurious getaway at a resort where you can relax and play or a serious course which would challenge even the most experienced golfer, Italy has the place for you. Here is a list of our favorite golf resorts and courses all over Italy.
Tuscany
The Argentario Golf Resort and Spa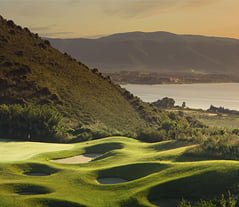 This luxurious five-star resort is located in beautiful southern Tuscany. The Argentario is not your traditional, rustic Tuscany resort, but instead holds a modern beauty, one that is progressive both visually and environmentally. Here you can take pleasure in the mild climate and Mediterranean Sea while enjoying the Resort's designer rooms, 18-hole golf course, spa, and gourmet restaurant. The Argentario Golf Club is a state of the art facility, all products used for maintenance are completely natural, and hosts various golf tournaments annually.
Castiglion del Bosco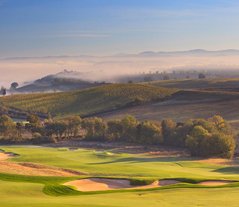 An eight hundred year old  estate, made up of a castle, a church, and a Borgo nestled deep in the Tuscan country side, the Castiglion del Bosco is a once in a lifetime experience. This ancient and beautiful resort tells the tale of a deeply rooted Tuscan lifestyle. While at the resort you can enjoy a Brunello di Montalcino winery, classes at the cooking school, an infinity pool, a luxurious spa, and a breathtaking golf course. With its Tuscan charm, you will follow the gentle rolling hills of the landscape as you work your way through this majestic 18-hole golf course. The Castiglion de Bosco Golf Club is truly every golfer's dream.
Piedmont
Golf Club Biella "Le Betulle"
In northwestern Italy, bordered by majestic mountains, and set in the charming country side we find the Golf Club Biella. This quant club was built in the 1950s and includes a Club House with restaurant and guest rooms. At this course you will experience the rare natural beauty of the region while enjoying the 18-hole parkland. Additionally, this renowned course has been considered one of the best worldwide for many years.
Lombardy
Palazzo Arzaga Spa and Golf Resort
Image a Renaissance mansion surrounded by green hills, enchanting woods, and two scenic golf courses; this is the Palazzo Arzaga. While here you will feel as if you have taken a step back in time as you stroll through the antique courtyard, relax at the spa, bask in the sun by the pool, and enjoy a round of golf. As mentioned, the Arzaga Golf Club features two beautiful courses, an 18-hole and 9-hole course, both planned by well-known designers.
Sicily
Verdura Golf and Spa Resort
Situated on 570 acres of olive groves and bordering over a mile of private Mediterranean coastline, this resort is a true gem amongst the beautiful Sicilian landscape. Here you will experience uninterrupted bliss as you enjoy the resorts infinity pool, tennis courts, deluxe spa, restaurants, bars, and three golf courses. The Verdura's three gold courses, two 18-hole and one 9-hole, are all linked and follow the rolling contours of the natural landscape. Above all, as you leisurely make your way through the course you will be able to feel the warm sea breeze on your skin and enjoy beautiful views of the glistening waters of the Mediterranean.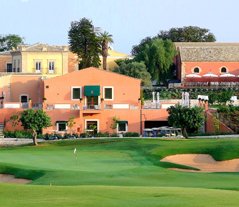 Donnafugata Golf Resort and Spa
This heavenly five-star resort lies deep in the heart of enchanting Sicily. This resort is a true delight for golf enthusiasts, not just for its two beautiful courses which subtly blend with the Sicilian landscape, but for their specialty services for golfers offered at the spa. After a long day on the course, golfers can head to the spa and receive one of the specialty "so green" wellness packages offered. A favorite is the relaxing "Fairway" massage which incorporates mud and hot oils in a relaxing massage which focuses on relieving tension which can occur after playing golf all day.
Apulia
San Domenico Golf
A perfect course for the avid golfer and scenic water front view enthusiast. This gorgeous golf course features luscious Bermuda grass and breathtaking sea views from every angle. Rated among the best courses in Italy, come enjoy a round of golf at San Domenico's 18-hole golf course bordering the clear beauty waters of the Adriatic Sea.
Masseria Torre Coccaro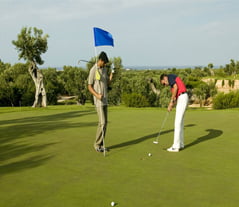 This charming getaway is a five-star masseria encompassed by a vast estate with stunning seaside views. While here indulge in the life of luxury and enjoy the lavish spa, beautiful beach, and lush golf course. The Coccaro Golf Club is surrounded by ancient olive groves, almond trees, and carob trees. Additionally, the course has perfectly manicured green grass and a beautiful view of the sea from many holes.
Aosta Valley
This unique course is located at the foot of the Matterhorn and is surrounded by gorgeous natural landscape. Since its beginning in 1955 this 18-hole course has proven itself as one of the most important golf clubs in the Alps. While here you can also enjoy summer skiing on the Plateau-Rosà Glacier, mountain climbing, and for those who would just like to relax, the Cervino Golf Club offers spa services at their wellness center.
Sardinia
Pevero Golf Club
Nestled between the shimmering azure waters of the bay of Cala di Volpe and the Gulf of Pevero and with its lush green grass, it is no surprise the Pevero Golf Club is considered to be one of the most stunning gold courses in the world. To add to the beauty of this course, it is surrounded by worn rock formations, natural lakes, and indigenous plants of the region, such as juniper, myrtle, and wild strawberry. This course is not only beautiful, but offers a demanding 18-hole course which will challenge the most experienced golfer.