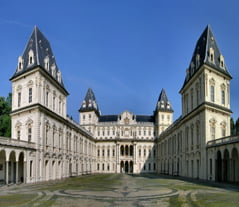 The castles of Turin Italy may be one of the country's best kept treasures. Turin is located in northern Italy nestled against the Po River, with the beautiful Alps surrounding the culture rich city of approximately 900,000 people.   As well as being the home of the royal family of Italy, Turin boasts beautiful castles, museums and churches with a strong French influence.

Located in downtown Turin, the Palazzo Reale palace sits in grand splendor as the former home to the royal family of Italy.  The palace is opulent and richly decorated, holding priceless pieces of artwork. The expansive palace now serves as a museum. Connected to the palace is the Chapel of the Holy Shroud, which houses the famous but controversial Shroud of Turin, that some believe belonged to Jesus upon his death.
Within a stone's throw is the Palazzo Madama, formerly a castle that now holds Turin's museum of ancient art.  In the same area is the Palazzo Carignano, which houses the Museum of the Risorgimento.  This castle is full of rich history, including being the birthplace of Italy's first king. The castle also held the honor of being the former home to the Italian parliament.
Cradled in Valentino Park is the Castle of Valentino. The horseshoe shaped palace is now the home to the Architecture Faculty of the Polytechnic University of Turin. The gardens and beautiful architecture alone are an enticing draw to tourists. In the bordering town of Rivoli is the Rivoli castle, which houses a museum of contemporary art.  Its original beginnings date back to the 10th century.  The Reggia di Venaria Reale is another beautiful castle located in the town of Piedmont, not far from Turin, built by a duke for enjoying his hunting trips.  The castle houses modern artwork and boasts beautiful gardens.
The Palazzina di Caccia di Stupinigi was built to be the royal hunting lodge located in Nichelino.  Today the castle hosts art exhibitions and is home to some of the pieces of royal cabinet makers.  Moncalieri Castle was built around 1100 in Piedmont.  The castle was the site of several royal Italian weddings.
Travel to the Canavese region will render several other castles worthy of a tour.  Nearby, the Pollenzo castle is a must see for wine lovers.  Not only is it home to the University of Gastronomic Science, it also contains over 100,000 bottles of wine from 300 wineries.  While in the same area, castles Ducale Di Aglie, Raccongi, Govonne, and Casotto are not to be overlooked. Visits to these castles will reveal the rich culture and heritage of the royals who lived there in the past.
A visit to the castles of Turin and beyond will definitely leave a lasting impression.