Often thought of as one of the primary crown jewels of Europe, for decades Italy has endeared itself to adults with its unparalleled rustic appeal and romantic charm.  However, in this modern era where international travel at a young age is becoming increasingly standard, children are finding just as many reasons to love Italy as their parents.
With exciting train rides, gorgeous beaches, beautiful scenery, memorable carriage rides, and a vast and delicious offering of sweet treats, Italy fluently speaks a child's love language.  In a country where trains are in many ways the primary transportation for hopping from city to city, children will get to see a great deal of the land, and discover what it is like to travel on a real train. The white sandy beaches and crystal clear waters of the Tyrrhenian, Ionian, and Adriatic Seas will beckon them to soak in the sun, splash merrily about, and hopefully take on some water sport fun too.  Carriage rides through some of the most enchanting cities of Italy will beautifully align with their love of all things fairytale.  And last but not least, Italian bakeries do amazing and delicious things with pastries, cookies, sweet breads, gelato, and more that can make a child's eyes simply sparkle.
THE TOP 10 PLACES TO VISIT WITH KIDS IN ITALY
Deciding to come to Italy is the easy part.  Planning where you will visit with your family can seem overwhelming with such a vast land to explore.  Knowing which Italian cities have interesting activities for adults and children alike makes for a much more pleasant vacation.  Here are some recommendations for some of the best places for vacationing in Italy with children.
Venice
Known for its beautiful waterways and canals, Venice is located in the northeast part of Italy.
As one of the largest cities in northeastern Italy, Verona is known as a city of love because of its role in Shakespeare's Romeo and Juliet.
Lake Garda
Lake Garda is the largest lake in Italy and offers stunning mountain views in north central Italy.
Milan is one of the crown jewels of northwestern Italy with a fairly modern culture known for its fashion and art.
Cinque Terre
Cinque Terre is an enchanting area of small villages located on the Italian Riviera in northwest Italy.
Located in in central western Italy, the historical city of Rome is the beloved capital of the country.
Pisa
World renowned for its unique leaning tower, the city of Pisa is located in central Italy.
Florence is the capital of the beautiful Italian region of Tuscany in central Italy.
Naples
Naples sits seaside on the southwestern part of the boot of Italy and is one of the largest cities in the country.
This southern region located on the heel of Italy's boot is known for its beautiful coastline and beaches.
CONSIDERATIONS WHEN TRAVELING WITH KIDS IN ITALY
To get the most out of a modern family vacation in Italy, there are a few important considerations to remember.  Doing extensive research and logistics planning well ahead of the trip will take some time but will be well worth it in the end when it yields a smoother and more enjoyable vacation for the whole family.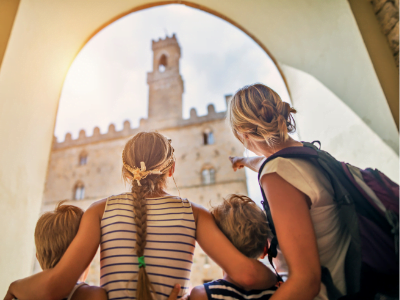 Make a travel timeline.  The family is going to Italy.  That much has been decided.  But exactly how long can the family handle quality time together in a foreign country without the creature comforts of home?  Families with younger children may find that seven to ten days will be the limit to maintain a peaceful vacation.  Families with older children who can better adapt to the time change and constantly being on the go may opt for a ten to fourteen day vacation.
Consider the weather.  If you have several cities of Italy in mind for your vacation, take a few minutes to research the average weather conditions for the time of year your family will be there.  If one of the cities is experiencing a strong and cold Bora wind in that season and you have young kids, a city with a warmer and more docile weather pattern might be a better fit.
Choose where to stay.  It is particularly helpful for younger children if your lodging accommodations have access to cribs or cots that can be added to your room.  It often works best for families to stay overnight in the same lodging for several days before picking up and moving to another location.  For this reason, it may be best to visit a city that offers several nearby day trips so the family isn't tethered to the same activities for three days in a row.
Get excited.  Now that you know specifically where the family will be vacationing, it's time to help build the kids' excitement too.  School age children may enjoy preparing for the trip by reading a nonfiction book about Italy or enjoying a fictional book set in Italy.  If you're looking for a family activity, consider involving everyone in a fun research project pertaining to the places you will be visiting.  Friendly tip:  Kids love learning about the Italian dessert tradition of gelato, so be sure to make that a part of your research experience.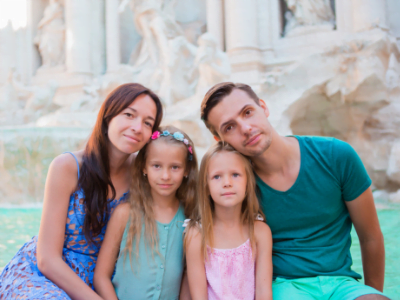 Plan your meals.  For some vacation destinations, meal planning is an essential part of the trip.  Most families who have traveled to Italy find this is generally not the case.  In almost any restaurant in Italy, one can find homemade pasta which you can easily explain is a distant cousin to your child's beloved macaroni and cheese.  On average, very few Italian dining establishments offer kid's meals.  Most meals will include a minimum of four courses, which will allow the whole family to share much of what comes to the table.  Friendly tip:  Mealtime in Italy is an experience to be savored, not something to rush through.  Plan on spending a couple of hours at the dinner table and consider if a coloring book and crayons might be required to keep the little ones entertained.
Make reservations:  Depending on what city your family chooses to visit, many of the more popular attractions will require advance reservations.  Add to that the operating hours can sometimes vary from day to day, and most families find the most efficient way to plan their trip is with the help of a travel agent, who can help plan activities and make reservations.
Find traveling gear.  Younger children may require a lot of extra gear when it comes to traveling.  Strollers, car seats, and playpens can be just the tip of the iceberg.  However, it is becoming increasingly common for some of these bigger ticket items to be obtained from destination equipment rental companies.  To lighten your packing load, conduct a simple internet research to find out which items you can leave behind and simply rent when you arrive.
Have fun!  It is so easy to get bogged down in all the details of planning a family trip to Italy that the fun part of things can quietly slip away.  To help keep that spark of excitement alive for your trip, rely on a credible travel agent that knows Italy to help you manage the details and hopefully offer you some firsthand knowledge about the country.