Trentino Alto Adige: The Definitive Destination for Any Season
Trentino Alto Adige, A Destination for All-Seasons
Traveling may not be easy right now, but that doesn't mean we can't continue to fall in love with Italy from afar, and Trentino Alto Adige is a marvelous Italian region for just that. It's a destination for all seasons with stunning year-round hiking, famous architecture, and legendary lakes intertwined with a unique culture and local flavors. Here's why Trentino Alto Adige is a year-round Italian destination to add to your bucket list.
Where is Trentino Alto Adige?
Trentino Alto Adige (or Trentino/Alto Adige for short) is a hidden gem tucked into the northernmost edge of Italy, bordering both Switzerland and Austria. Due to its location, part of the region has Germanic roots, resulting in a unique culture and spoken languages that differ from the rest of the country. Therefore, you won't just find Italian here, but also German and Ladin, a language native to the valleys of the Dolomite Mountains and spoken mainly in the provinces of South Tyrol, Trentino, and Belluno.
Enjoy Nature's Finest at the Dolomites
From the remarkable mountain scenery of the Dolomites to the Buonconsiglio Castle of Trento, there's so much to do and see on a trip to Trentino, no matter the time of year.
Experience in Trentino-Alto Adige
The Dolomite Mountains are easily one of the best places to visit in all of Italy serving as a haven for both nature lovers and landscape admirers. With jagged peaks and vertiginous walls, the Dolomites are unlike anywhere else.
Hikers and adventure enthusiasts alike will enjoy trekking rough peaks, climbing steep walls, mountain biking, and even exciting alpine skiing during the winter months.
Travelers instead seeking to unwind or be pampered should consider spending time in Trentino Alto Adige's world-renowned thermal spas and wellness resorts. Towns such as Merano, Levico Terme, and Comano Terme are tucked away in the mountains allowing for complete relaxation in thermal waters surrounded by picturesque natural scenery. Resort guests can recharge the body immersed in hay baths enhanced with local mountain herbs and wildflowers, all in the swankiest modern accommodations designed to harmoniously blend with nature.
This phenomenal region transforms each season with snow-capped mountains in winter and gorgeous fall foliage in autumn, while its mountains are still dotted with snow. Spring and summer have no shortage of beauty either, offering perfect weather to explore the region's many nature parks. Truly, there's no bad time to visit the Dolomite Mountains.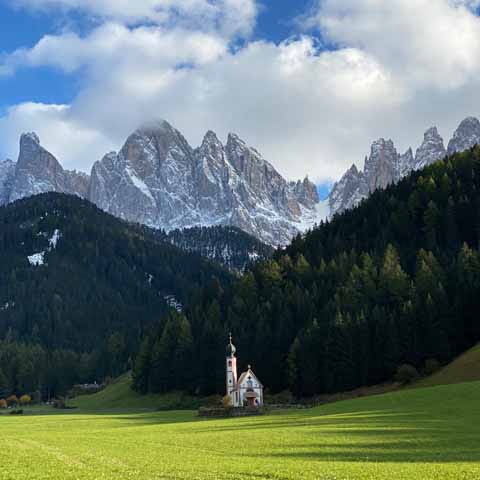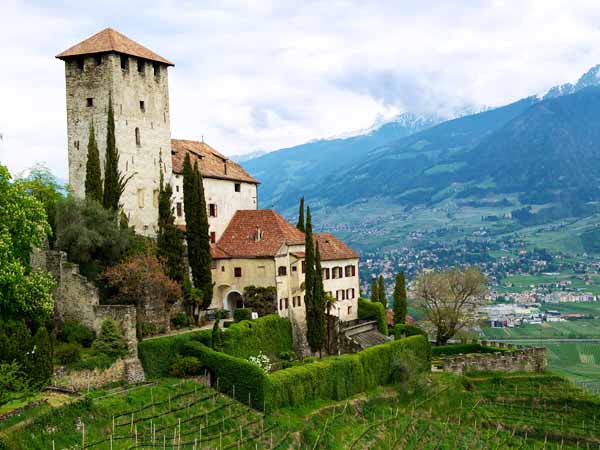 Exploring the many castles of Trentino is another excellent way to spend your time on a trip to Italy. From the region's capital of Trento to hidden lakeside wonders, there are hundreds of castles scattered throughout Trentino-Alto Adige. With so many castles worthy of a visit, it may be difficult to narrow down the best ones for your trip.
For instance, there's a mystical castle by the name of Toblino. It's located on the lakeside with its reflection doubling its beauty onto the water. Numerous legends and gorgeous scenery make this 16th century fortress a must-visit destination in Trentino.
Another notable castle is the Buonconsiglio Castle, which was once the residence of the prince-bishops of Trento and is now a striking symbol of the city. Immerse yourself in Trento's history while enjoying lovely ancient architecture, intricate ceilings and courtyards as well as royal views overlooking the city.
These are only two examples of countless fascinating castles just waiting to be discovered throughout Trentino-Alto Adige.
Wander Magical Christmas Markets
You'll be hard-pressed to find better Christmas markets in Italy than the ones in Trentino Alto Adige. This region is the place to be when Christmastime rolls around. The holiday spirit fills the air as oversized Christmas trees, tinsel, and winter decor sprawl the squares across the region.
Set against the remarkable backdrop of the Dolomite Mountains, the yearly Christmas markets held in cities like Trento, Bolzano, and Bressanone are truly a sight to behold.
During winter vacations to Trentino Alto Adige, you'll adventure in ski resorts by day then spend the evenings munching on fresh market goodies and wandering the stalls for festive items, trinkets, and winter wear.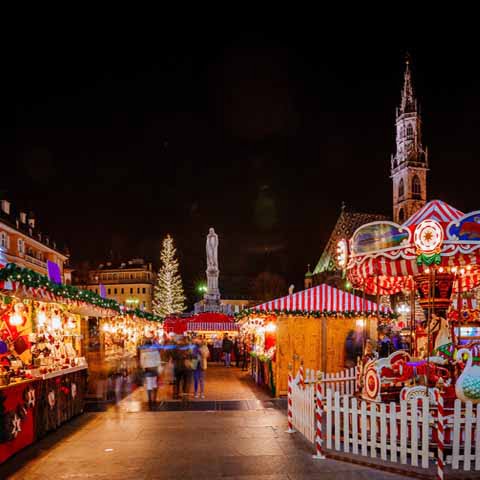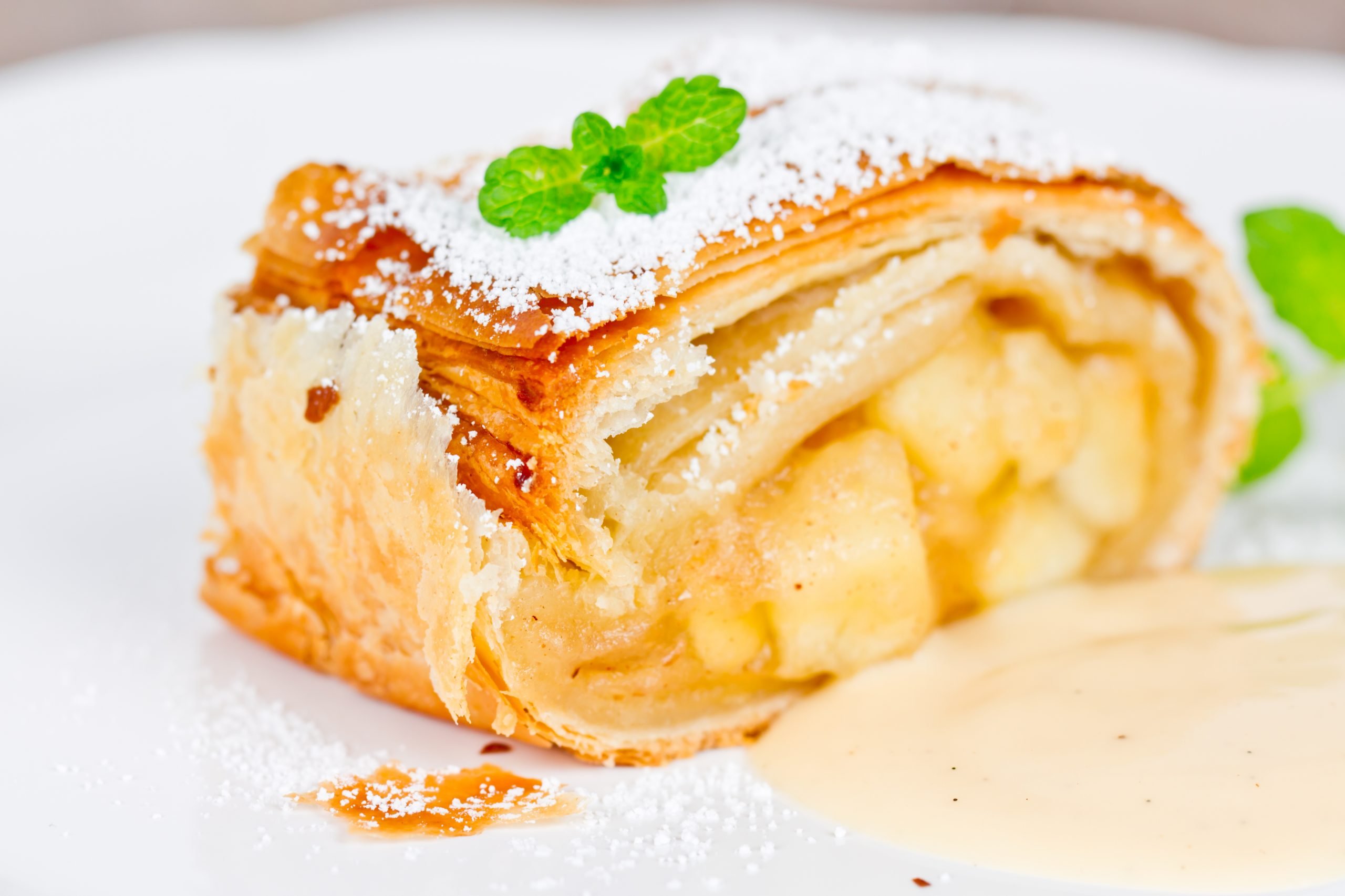 Indulge In Local Food and Wine
While you'll still find Mediterranean inspiration in the cuisine, Austrian and German influences contribute largely to the region, making it vastly different from other Italian regions.
For example, favorites across Trentino Alto Adige include Speck, a cured and lightly smoked ham, as well as Schüttelbrot, a type of crunchy flatbread. Trentino Alto Adige also has world-renowned apple orchards, which greatly contribute to the area's most famous dessert, apple strudel. The unique sweetness of these apples is what makes Trentino's apple strudel so delicious, along with the shortcrust pastry, pine nuts, raisins, and cinnamon, of course.
As for wine, you'll still find quite a bit of that here too as wine making has taken place in Trentino for over 3,000 years. Approximately 60% of the wine made in Trentino Alto Adige is white wine with varieties such as Pinot Grigio, Gewürztraminer, Pinot Blanc, and Chardonnay grown throughout the region. It is interesting to note that currently the most widely grown grape in Trentino is actually a red one, Schiava (or Vernatsch as it's called in German). This grape is often used as a base for light-bodied red wines like the tasty St. Magdalener (Santa Maddalena). With so many options, you'll easily be able to indulge in wine-tasting while visiting Trentino-Alto Adige year-round.
Let us not forget the legendary lakes of Trentino Alto Adige. With 297 gorgeous mountain lakes, this region is spectacular for its scenery and adventures. It's a region adored by hikers, climbers, and skiers alike. Lake Ledro is astounding for its crystal-clear waters, while Lake Molveno, immersed in the Dolomites, is frequently nominated for the 'Best Lake in Italy'. Famously shared on Instagram because of its indescribable beauty, Lake Braies is sure to take your breath away. Certainly, worth a mention as well is Lake Garda, Italy's largest lake, favored by sailors, windsurfers, kayakers, and kitesurfers alike, which is partially located in Trentino Alto Adige. Take your pick; there's plenty of water to explore here.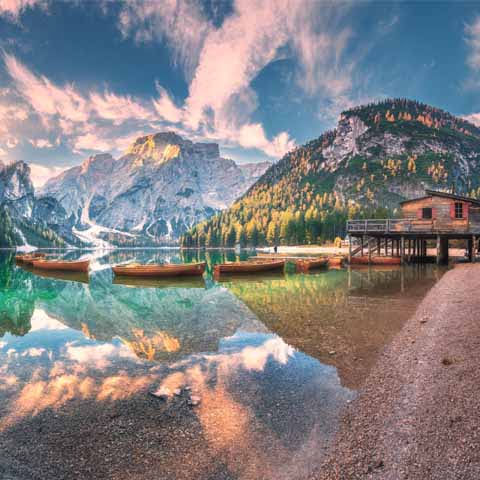 Until we are able to travel again, we can continue to fall in love with Italy from a distance. Trentino Alto Adige is a spectacular hidden gem to discover, no matter the season. Has Trentino Alto Adige caught your interest? Click on Trentino Alto Adige to learn more about this marvelous Italian Region .