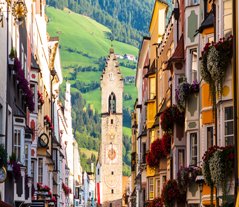 Trentino-Alto Adige, Italy's northernmost region, has a particular cultural background thanks to its proximity to Austria. In fact, the region has been at the crossroads of the Mediterranean and the Germanic cultures for centuries. With strong influences from both Italy and Austria, Trentino-Alto Adige has formed its own culture and traditions that completely set it apart from both countries.
The most apparent indication of the two cultures that have impacted Trentino-Alto Adige can be observed in the region's name. Interestingly, Trentino-Alto Adige is actually composed of two names, each representing the two separate areas found within its territory: Trentino in the south, which consists of the Province of Trento, and Alto Adige in the north, which consists of the Province of Bolzano.
It is important to note that Trentino-Alto Adige is one of Italy's five autonomous regions (the other four being Friuli-Venezia Giulia, Sardinia, Sicily, and the Aosta Valley). The governments of autonomous regions are given a significant degree of independence due to the presence of distinct cultural minorities within the region. This has allowed both Austrian and Italian culture to thrive within Trentino-Alto Adige.
The main languages spoken in Trentino-Alto Adige, Italian and German, are a key indicator of the region's unique background. Nearly two-thirds of all inhabitants in the Province of Bolzano are native German speakers. As a result, Italian and German are both official languages of the province meaning that documents issued by the city, such as ID cards, as well as bus tickets, receipts, and street signs are all written in both Italian and German. In addition, all public sector workers in Alto Adige must pass an exam in which they demonstrate their competence of Italian and German in both written and oral form. On the other hand, the main language spoken in the Province of Trento is Italian and bilingualism is not as prominent.
The interaction of Italian and Germanic cultures in Trentino-Alto Adige can be observed in the region's traditions as well as its food. One of the more peculiar traditions found in Trentino-Alto Adige is the Schuhplattln folk dance. The dance is originally from Bavaria, but over the centuries residents of Alto Adige have adopted it as their own. During the dance, which is accompanied by traditional folk music, the dancers clap their hands, step on each other's feet, spin, jump, slap each other in the face, and yodel. Historically, the dance only featured men, but lately women have begun to participate as well.
Much of Trentino-Alto Adige's cuisine is radically different from the rest of Italy as a result of Austrian influence. One dish, canederli, is a variation of the popular German and Austrian boiled dumplings known as knödel. Canederli are part of the cucina povera tradition that is present in other Italian regions such as Tuscany. The ingredients, which include stale bread, eggs, milk, and flour, derive from the original Germanic recipe and are simple and cheap, like other cucina povera dishes. In addition, Speck, a smoked, dry-cured ham native to Trentino-Alto Adige, is sometimes added to canederli.
As you can see, the region of Trentino-Alto Adige contains a little of Italy and a little of Austria, but as a whole it is different from both countries. The result is a region with strong ties to the countries that influenced it, but that ultimately stands on its own.