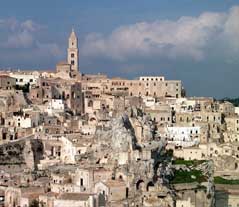 Miles of unspoiled, white beaches, crystal clear water, vine covered cliffs and fishing villages where time stands still: all of this, and much more, is Basilicata. The area is soaked in history and tradition, ridged by mountains and dark, forested valleys, marked by ancient trails and paths.

The Greeks knew this region by the old name of Lucania, and prospered here for centuries before the Romans. The new name dates back to the 10th century, when it was renamed Basilikos by the Byzantine Emperor. The population density is, nowadays, very low in comparison to other Italian regions, due in much part to emigration to other parts of Italy.
Countries like the United States have also found themselves host to emigrants from this region throughout the centuries. Agriculture plays a very important role here, and many colourful festivals celebrate the agricultural seasons. Basilicata has hundreds of rock churches, many of them with ancient frescoes clinging to the stone walls. The region has two beautiful national parks, located in the Appenino Lucano, cutting Basilicata in half.
Matera is an absolute unique city, famous for its extraordinary "sassi" (stones). A guide can take you to the most interesting sites, including cave houses and cave churches. Call us to arrange your journey to this amazing and still wild region.
To read more about Basilicata:  All About Basilicata & Travel.