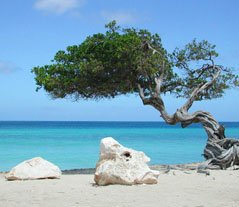 When spending a holiday in Italy, especially in summer time, we suggest including some days in Sardinia, an Island of stunning natural beauty, with regional parks and marine protected areas. People interested in excursions, geology, history, tradition, gastronomy or even simply wishing to relax at seaside, will find the ideal place to spend some time here.

You feel here a sensation of timelessness, as if the march of progress stopped, even in the most urbanized areas of the island. The coasts of the Region are high and rocky, with long, relatively straight stretches of coastline.
Almost 70% of the area is hilly and more then 10% is mountainous. The highest mountain is "Punta La Marmora" in the centre of the island. Sardinia is home to a wide variety of uncommon animals, such as the Albino Donkey (a small, completely white Donkey,) the Sardinian Deer (smaller then the European deer,) the wild fox and the Sardinian skink that lives only in Sardinia, Sicily and Maghreb. It looks like a lizard, with very short neck, small legs and a very long tail. The island has a typical Mediterranean climate and the wind Mistral from the northwest, dry and cool, makes the place a paradise for sailors.
The island has an extraordinary history and many different peoples – Phoenicians, Roman, Arab, Byzantines and Spanish – have influenced the Region. Today some 7,000 nuraghi - strange round tower fortress dating back 1500 BC - dot the Sardinian landscape. They belong to the UNESCO World Heritage Sites.
Sardinia is the only Italian region without highways, but the road network is well developed and the principal towns and the transport infrastructures are connected.  There is also a special steam train called "trenino verde" (little green train), which, in summer, slowly runs through the wildest part of the island and offers scenery you cannot enjoy from the road.
The main city is Cagliari, where two thousand year of history has left its mark, with archaeological ruins, medieval walls, superb churches and museums. Do not miss a visit to the castle - once the fortress of the town – the Cathedral and the San Pancrazio Tower.
Many Italian VIPs used to spend holidays in Sardinia. There are several ways to approach the Sardinian wonders. One of the best, surely, is boating along the coast. A great experience in Sardinia is the cuisine that ranges from the delicious sea food to wonderful meat dishes. Often ingredients like regional herbs are used to provide local color and flavour to meals.
A culinary local speciality? A cheese with worms! We are not joking, it exists, it is edible and many people find it yummy. If you want to know more about it, go on reading Cicero and we will satisfy your curiosity.