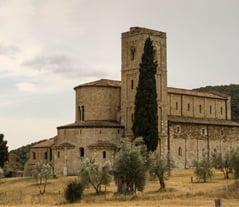 Right in the heart of the beautiful Tuscan region, not far from Siena and only 9 Km from Montalcino, sits the impressive Sant'Antimo Abbey, a must-see for anyone visiting the area. According to a legend, the abbey was founded by Charlemagne in 781 AC after he fell ill nearby and prayed for deliverance. Even though there is no evidence of this popular tale, it is quite likely he did make a stop that year (apparently in full health!) and set his seal on the foundation. In later times, the monastery served as a rest stop for pilgrims, merchants, soldiers and government officials traveling the busy Via Francigena which connected Rome and France.
But this beautiful Romanesque abbey, besides being part of the historic patrimony of the region, today serves also as a background for one of the most authentic Gregorian choirs in all of Europe. Six monks, who follow the order of St. Augustine, still reside there; guarding the abbey and conducting daily services with Gregorian chant as well as organize singing classes. The atmosphere is magic, completely melted with the natural background of peaceful hills, cypresses, and vineyards creating a sensation as if time had stopped centuries ago.
For those fond of this sacred form of singing, however, St. Antimo is not the only place in Tuscany which offers the occasion to listen to such beautiful and intense choirs. Every year in Florence, at the beginning of September, a unique festival fully dedicated to Gregorian chanting is held which is named the "InCANTO GREGORIANO International Festival". The festival is not only an opportunity to listen to the authentic harmonies, the mix of music, speech, spirituality and prayer, that is the Gregorian chant; its purpose is also to promote the study and practice of this ancient art, which is considered to be the starting point of the western musical culture and one of the higher expressions of Christian spirituality.