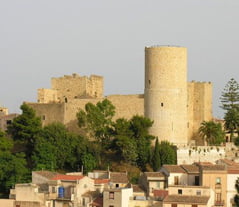 Tucked in the western point of Sicily, Salemi is a small town of about 11,000 people tucked into the Belice valley. It sits about 100 kilometers, or about 62 miles, outside of Palermo and is near Segesta and Selinunte, a pair of ancient cities that were constantly at war with each other. All that's left of these two relics are some stoic Greek temples. Though the town is modestly sized, it possesses a long and interesting history that includes many peoples. The Greeks, the Romans and eventually barbarians passing through the Arabs all controlled the town at different times. During Arabic control, the town prospered and named itself after the Arabic word "salem," which means "peace, health, or safe town."
The Arabs introduced oranges, lemons, peaches, artichokes and saffron to the area, growing all of them in large groves. In the 11th century, the Normans gained control of Salemi and sparked another period of growth. It was during this time that the stunning castle was erected. From the castle, a visitor can take in the breathtaking view of the western edge of Sicily, trailing all the way out to the sea. However, perhaps the most important day in the town's history occurred on May 14th, 1860. Giuseppe Garibaldi, also known as the "hero of the two worlds," proclaimed Salemi to be the First Capital of Italy upon landing in Marsala, near Trapani, as part of the Expedition of the Thousand. It was on this day that he declared dictatorship of Salemi on behalf of King Vittorio Emanuele II, and from the Norman castle he unfurled the first Italian three colors flag, beaming green, white and red across the sky. His mission was to "liberate" Sicily and southern Italy from the rule of the Bourbon Kings, an effort that began in earnest in Salemi. So even though it was only for a single day, this historic town played a very important role in the history of Italy.
In 1968, a devastating earthquake destroyed large parts of the historical center, but much of the city dating back to Arabic control and the middle Ages remained upright and strong. The marks of Arabic city planning are still present, with narrow roads, intricately designed dead ends, and elegant courtyards dotting the older parts of Salemi. The town's last mayor, the famous and controversial Italian art critic Vittorio Sgarbi, has pushed for Sicilian regional administration. He sold the old and unhabited houses in the historic parts of town for a single Euro to maintain the city's precious history.