Langhe & Roero: Piedmont Gastronomic Paradise
Piedmont's Langhe and Roero: A Gastronomic Paradise
Lovers of food and wine hoping to escape large crowds should visit Italy's Piedmont region where culinary and wine itineraries abound. Though Piedmont is among Northern Italy's less-traveled regions, it's highly renowned among those who enjoy the finer things in life when it comes to gastronomy — think white truffles and Barolo, which is known as "the wine of kings, the king of wines." It's here that the spirit of the Slow Food movement was born, permeating all aspects of daily life; a relaxing area ideal for wining and dining among beautiful landscapes and historic towns. Though the entire region is considered a culinary gem, two areas in particular are truly magnificent food and wine destinations: Langhe and Roero.
Where are the Langhe and Roero areas?
Close your eyes and picture the Italian countryside. What do you see? Rolling hills, historic villages, rows and rows of vineyards — these are all part of the iconic imagery of Italy's countryside. Another key component is a peaceful atmosphere, and travelers to the Langhe and Roero areas will be rewarded with the best of Italy's characteristic countryside plus delicious food and wine without a large concentration of tourists.
Located along the Tanaro River, the Langhe extend over portions of the provinces of Cuneo and Asti in the southern part of Piedmont. This area of undulating green hills is divided into three zones: Bassa Langa (positioned less than 1,970 feet above sea level), Alta Langa (up to 2,940 feet), and Langa Astigiana (the southern part of the province of Asti). Due to differing elevations and geography, each zone has its own characteristics. For instance, the hills of Bassa Langa feature dense vineyards with abundant wine production and truffle harvesting, while Alta Langa is known for its forests and for the cultivation of the local Tonda Gentile delle Langhe hazelnut.
Roero, which is north of the Langhe area and the city of Alba, is situated to the north and west of the Tanaro River, the waterway that serves as a border between Roero and Langhe. Roero is part of the province of Cuneo and its name derives from the Roero family, the land's past rulers. In general, this area is best known for wine production, fruit cultivation, and breathtaking scenery.
Langhe and Roero, together with the larger Monferrato area, are a designated UNESCO World Heritage Site. As a whole, these lands are considered to be among Italy's most noteworthy wine production areas. The hilly landscapes are highly regarded for their beauty, and the interaction between man and nature present here has led to a distinct and highly praised wine culture.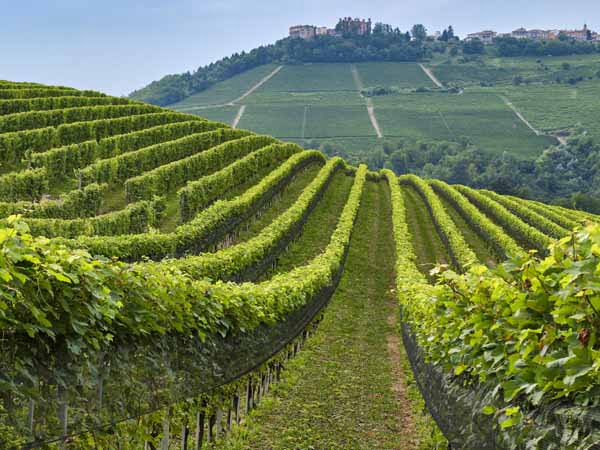 Highlights of Langhe and Roero
The landscapes of Langhe and Roero are dotted with historic villages and castles. In fact, these areas are home to some of the most charming locations in Piedmont.
Among all the cities and towns that are part of Langhe, perhaps the most important is Alba, which is the unofficial capital of the area. A city of Roman origins, Alba is home to several historic sites including the Duomo of San Lorenzo and numerous fourteenth and fifteenth century towers. However, the city is best known for its prized white truffles as well as the annual International White Truffle Fair.
The town of Barolo may have less than 1,000 inhabitants, but its name is known worldwide thanks to the eminent wine. In the heart of the medieval town rests Castello Falletti, a tenth century castle home to the interactive Barolo Wine Museum, which features exhibits on the history of wine across cultures and the production of Barolo. The castle is also home to a historic wine cellar that offers Barolo tastings and a panoramic terrace with the best views in town.
Only 15 miles separate Barolo from another of Piedmont's most distinct wine producing villages: Barbaresco. And yet, that small distance results in two distinct and highly revered wines that are characteristic of the Langhe area. The town of Barbaresco is positioned within a sea of green vineyards with over 40 wineries in the immediate area. The small and charming historic center is distinguished by a medieval tower that watches over Barbaresco and offers stunning views of the Langhe hills.
Larger than Barolo and Barbaresco, La Morra is a delightful hilltop village with Roman origins. Though the town doesn't lend its name to a wine, it's an essential part of local wine production, particularly Barolo, with approximately 70 wineries based in the area. In addition to wine tasting, travelers can admire historic monuments, such as the Church of San Martino, the Church of San Rocco, and the stunning bell tower that soars over the center of town.
Like La Morra, Monforte d'Alba is part of the Barolo wine production area and it's a beautiful hilltop town rich with history. While exploring the winding streets, travelers can admire remarkable views of the surrounding vineyards and countryside. Must-sees include the Neo-Gothic Church of Madonna della Neve with its striped interior as well as the natural outdoor auditorium designed by Polish pianist Mieczysław Horszowski, which hosts the town's annual jazz festival and is renowned for its perfect acoustics.
Though the Roero area is smaller compared to Langhe, it too is filled with remarkable places. Principal among these is the hilltop town of Bra, which is surrounded by Roero vineyards. A perfect base from which to enjoy the excellent wines of this historic land, Bra is a charming town rich in cultural traditions. In fact, Bra is the headquarters of the Slow Food movement, which aims to promote local foods and traditional cuisine. As a result, you won't find large supermarket chains in Bra's city center, but rather family-owned shops stocked with local delicacies including wine, fresh fruits, and handmade sausage.
The Slow Food foundation is one of the organizers of Bra's biennial international cheese festival. Aptly named "Cheese," this September festival promotes natural cheeses made by regional producers. Nearby Pollenzo, a hamlet of Bra, is home to the University of Gastronomic Sciences, the first university of its kind dedicated to exploring the relationship between food and culture.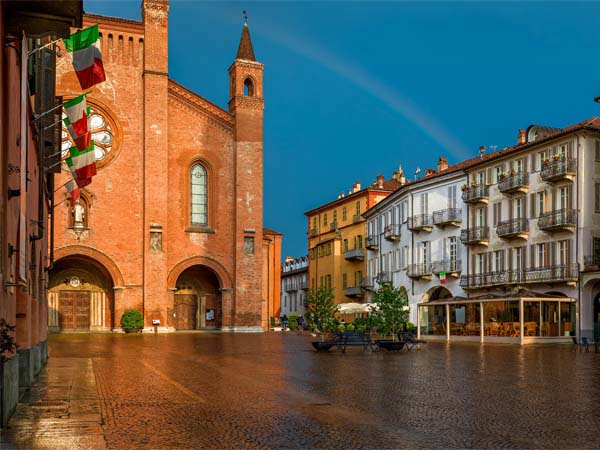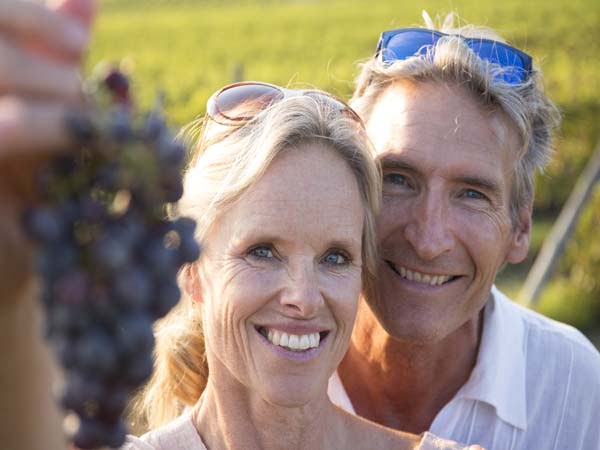 In Langhe and Roero, winemaking is a tradition that dates back centuries. The gradual development of production techniques in response to specific soil characteristics and particular micro-climates has led to exceptional wines that are renowned throughout the world. The eminent local wines coupled with the incomparable natural scenery of the Langhe and Roero hills result in a very special destination for all wine lovers.
The Langhe area is home to 4 DOCG wines and 6 DOC wines, many of which consistently rank among Italy's best.
First and foremost is Barolo DOCG, the so-called king of Piedmontese wines. Made from the Nebbiolo grape — the Piedmont region's signature varietal — Barolo can be produced in 11 towns including Barolo, La Morra, Monforte d'Alba, and Grinzane Cavour. The wine is known for its intense, ruby red color and aromas layered with fruits and spices. Due to its pronounced flavor, Barolo is commonly paired with red meats, wild game, and aged cheeses. The wine is also a key ingredient in local dishes such as brasato and risotto al Barolo.
The queen to Barolo's king, Barbaresco DOCG is another bold red made from the Nebbiolo grape. This wine is produced over a smaller area centered on a total of 4 towns including Barbaresco and part of Alba. Because the production area experiences more rain and the wine is typically aged for a shorter period of time, Barbaresco is considered to have a gentler flavor compared to Barolo. With a bright red color and a dry, full-bodied taste, Barbaresco is best enjoyed with roasted meats, stews, and aged cheeses.
Among the area's DOC wines, Barbera d'Alba is one of the most celebrated. Compared to Barolo and Barbaresco, the production territory is significantly more extensive and Barbera d'Alba is made in the majority of the Langhe area's northern portion. This leads to more variation in the final product, but, like its cousins, Barbera d'Alba is prized for its rich red color and fruit-forward aromas. As one of Langhe's most accessible wines, Barbera d'Alba is frequently present on dinner tables throughout the area and is best paired with red meats.
Other wines produced in Langhe include Langhe DOC, Dogliani DOCG, Diano d'Alba DOCG, Nebbiolo d'Alba DOC, Dolcetto d'Alba DOC, Verduno DOC, and Alba DOC. All of these wines are red, except for Langhe DOC, which has the least amount of production restrictions and can be made throughout the Langhe area. As a result, it's possible to find red, white, rosé, and even sparkling varieties of Langhe DOC.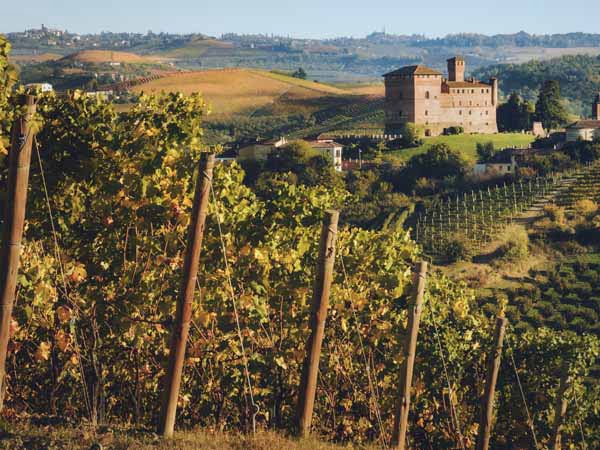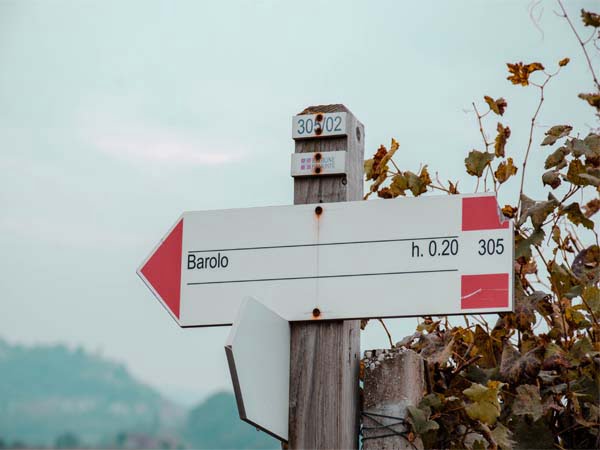 Though the Roero area is smaller compared to Langhe and has less DOC and DOCG wines, the wines produced here can be just as remarkable.
The principal wine is Roero DOCG, a full-bodied red produced in 19 towns along the Tanaro River in the province of Cuneo. Like many Langhe wines, Roero DOCG is made primarily with Nebbiolo grapes. Additionally, the wine must be aged for 20 months. This ruby red wine has fruit-forward aromas and a dry taste that is slightly more delicate compared to Langhe wines. The best pairings for Roero DOCG are braised and roasted meats as well as truffle dishes.
When Roero DOCG is aged for at least 32 months, it's known as Roero Superiore DOCG or Roero Riserva DOCG. Due to the longer aging process, the color becomes darker with amplified aromas and flavors.
Roero Arneis DOCG, the white counterpart to Roero DOCG, is primarily composed of Arneis grapes. This dry wine has a pale-yellow color, fresh aroma, and herbaceous flavor. If your meal does not feature red meat, ask for a glass of Roero Arneis DOCG. This versatile white pairs well with aged cheeses, fish, poultry, and lamb. It may also be enjoyed during an aperitivo or as an accompaniment to appetizers.
Roero Arneis DOCG is made in a sparkling variety as well, which is called Roero Arneis Spumante DOC. Produced in the province of Cuneo, the wine is characterized by its pale-yellow color with amber reflections plus a fresh aroma and dry taste. Roero Arneis Spumante is best enjoyed as an aperitivo or at the beginning of a meal.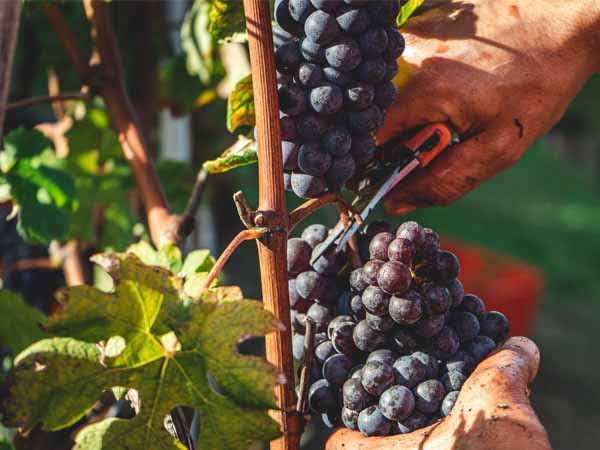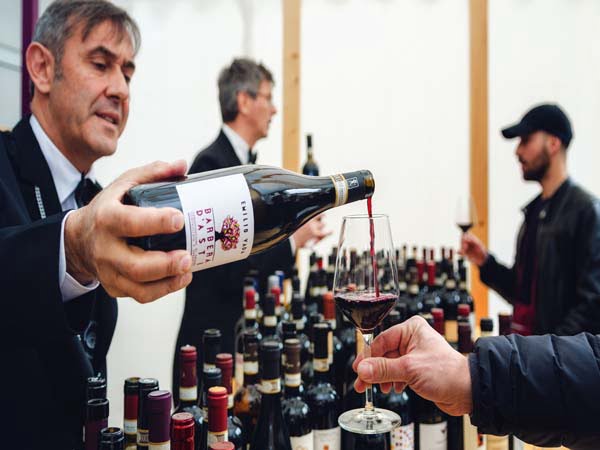 Not to be overshadowed by the local wine, the cuisine of Langhe and Roero is truly something special. The foundation rests upon historic recipes originally created by local farmers combined with elegant dishes and rich ingredients once favored by the House of Savoy.
Local staples include cheeses such as Robiola di Roccaverano, foraged white truffles from Alba, and the Tonda Gentile delle Langhe hazelnut. Roero in particular is known for its fruits including pears, peaches, and strawberries.
With Slow Food headquarters located in the heart of Roero, the cuisine of Langhe and Roero consists of fresh flavors and traditional recipes tied to the local culture. In addition, the best of Piedmont's regional cuisine can be enjoyed here from handmade pasta — like tajarin and agnolotti — and delicious risotto dishes to braised meats, seasonal vegetables, and hazelnut desserts.
Perhaps the best-known recipe that is typical of both Langhe and Roero is bagna càuda, a UNESCO-recognized dipping sauce paired with raw or cooked vegetables that is among the most iconic dishes of Piedmont's cuisine. The purest version of bagna càuda is made using only anchovies, extra virgin olive oil, and large quantities of garlic. The result is a unique sauce served in a special terracotta container that keeps the sauce hot. For locals, bagna càuda goes far beyond food as it is meant to be shared among friends and family and represents a unifying aspect of the local culture.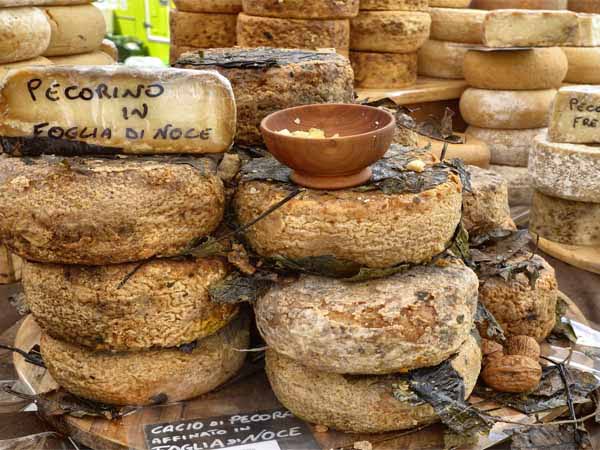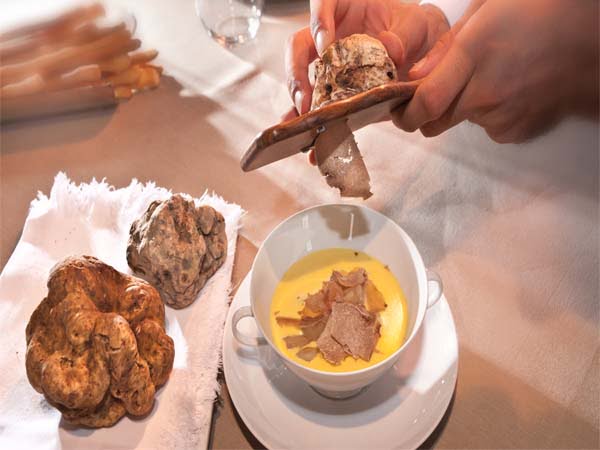 Things to Do in Langhe and Roero
Food and wine are a natural starting point when it comes to activities in Langhe and Roero. Travelers will quickly learn that tastings here go beyond simply sampling the local flavors. Food and wine tours offer a deep dive into local production processes, history, and culture. In addition to learning the difference between Barolo and Barbaresco, travelers will experience rich traditions first-hand and hear the fascinating stories behind some of Italy's most celebrated food and wine. For those open to a more hands-on experience, cooking classes are the best way to live Piedmont's gastronomy and take a part of the region home.
To truly engage with nature, there are a number of opportunities for nature walks, hiking, biking, and trekking in the countryside. During truffle season, you could even join a local truffle hunter and his trusty dog to discover the secrets behind Alba's prized white truffles.
Like the rest of Piedmont, culture abounds in the Langhe and Roero areas. In addition to the historic sites of hilltop towns such as Barolo or Bra, there are numerous hidden gems spread throughout Langhe and Roero. Lovers of medieval history will enjoy exploring Piedmont's many castles, such as the iconic Castle of Grinzane Cavour, which features a museum and regional Enoteca showcasing Langhe's wines.
Other highlights include an archeological tour of underground Alba, the Baroque and Neoclassical architecture of Cherasco, and La Morra's colorful Barolo Chapel designed by Sol LeWitt and David Tremlett.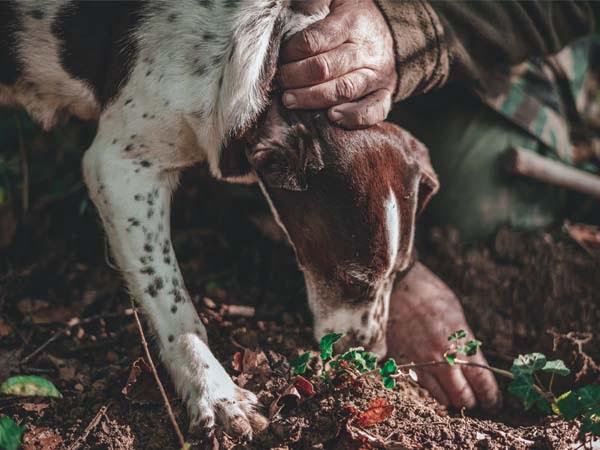 Enhance your trip with characteristic accommodations
As for accommodations, there are a variety of options available when planning a trip to Langhe and Roero. The medieval cities and towns offer unique accommodations in former historic residences and other evocative locations. If you prefer modern boutique hotels or luxury accommodations, there are quite a few options to choose from that feature modern architecture and commodities without sacrificing the natural surroundings and beautiful views this area is known for.
To fully immerse in the lifestyle of the countryside, consider staying in an agriturismo or country estate where you are likely to receive the close attention and personal care of welcoming owners. During your stay, you can learn about local traditions while surrounded by picturesque scenery. There's nothing better than waking up to stunning views of the hills or enjoying breakfast in open-air gardens engulfed by endless rows of vineyards; this is truly the best way to experience the spirit of Langhe and Roero.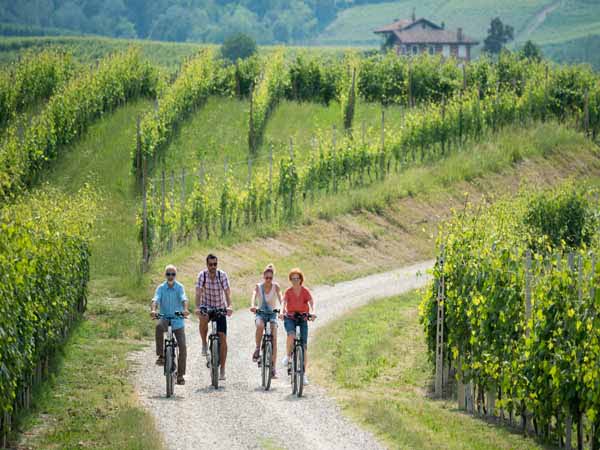 Piedmont's Langhe and Roero areas offer a piece of heaven on earth for food and wine lovers. Travelers spend their days visiting local wineries, exploring hilltop towns, and taking in the timeless atmosphere of the countryside. Click here to learn more about Italy's remarkable Piedmont region.