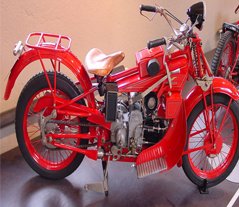 Moto Guzzi, with its 84 years of history behind it, represents a legend in Italian motorcycling and a dream for many motorbike lovers. A member of motorcycling aristocracy, Guzzi's symbol is the eagle, based on the insignia for the WWI Italian air corps.Established in Mandello, a village on the shores of Lake Como, in 1921, the company's first model was called 8HP Normale. The first of a series of highly successful bikes, Guzzi made a name for themselves in the racing world, with many world titles and trophies.
In 1950, Moto Guzzi was the first motorcycle manufacturer in the world to install a wind tunnel at its Mandello del Lario plant, to test and develop the first truly modern aerodynamic motorcycles.
The company's unmistakable style returned to universal popularity in the nineties.
Some of the names given to Guzzi motorcycles have some links to Como Lake's history, culture, and geography. Think about the comfortable "Breva", named after the wind that heralds the arrival of summer over Como Lake. Or the modern "Griso", named after a character of "I promessi sposi", one of the most popular novel in Italian literature, set in Como Lake. Innovative technical solutions and style are the main feature of Guzzi two-wheels and guarantee strong emotions.
A Guzzi offers a unique riding experience, adapted for safe every day rides on smooth highways, as well as the dynamic companion of adventures on rougher roads. It is a motorbike in constant evolution, although it remains faithful to its spirit, substance, and personality.
If you are keen on motorcycles, you cannot miss a visit to the Guzzi factory and museum, where you can experience the charm and history of this timeless cycle. The Moto Guzzi factory is right off in Lake Como Mandello del Lario.
This is one of the most beautiful areas in the world, and an ideal setting for the Guzzi Museum, where the aisles of classic motorcycles provide tempting eye candy for the enthusiast.