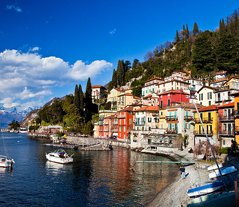 By a motorbike or through more sedate means, Como Lake is a dramatic place to visit, picturesque and exciting.  Even VIPs and the jet set have been increasing their interest in the area recently, buying magnificent villas and houses facing the mirrors of lake water.
It has been a popular retreat for aristocrats and wealthy people since Roman times. Henry Wadsworth Longfellow, the popular American poet, wrote in 1872, regarding Como Lake:
"I ask myself is this a dream?
Will it all vanish in the air?
Is there a land of such supreme
And perfect beauty anywhere?"
That's true: the "Lario", the name of Como Lake, has a curious Y shape and is enchantingly beautiful.
From Bellagio to Como, from Varenna to Cernobbio, there are many are fairytale villages to be visited.
Como is very elegant and easily reachable, only an hour by train or by car from Milan. It is a good starting point to visit the many villages in the area. The historic centre is located inside the ancient city walls, where tourists find many shops and boutiques and plenty of nice cafes to rest their feet.
Como is considered the silk capital in Italy, thanks to its traditional textile industry. You will find magnificent silk souvenirs of the highest quality; perfect as a gift for Mom or that special someone.  In the western shore of the lake, you can visit Cernobbio and Tremezzo.
In Tremezzo, Villa Carlotta is a real pearl, with a magnificent garden dating back to 17th century, full of orange trees, magnolias, enormous azaleas and camellias that bloom every spring, offering incredible multicoloured spectacles. It is also possible to enter the villa and visit a collection of paintings and sculptures.
You can then cross the lake by ferry, reaching the eastern shore, where I suggest beginning the visit from north with the Abbazia di Piona, a Cistercian abbey, a place full of peace not far from Colico.
Colico is a nice and dynamic village often crowed with tourists, particularly in spring and summer time. The northern part of the Lake of Como is an area rich in history and in nature, with beautiful landscapes.
Continuing to south, you will find pretty Varenna with Villa Monastero and Villa Cipressi, with their magnificent gardens. Bellagio, set on the point where the western and eastern arms split, provides a magnificent panorama on the lake. The village is characterised by century-old buildings, narrow streets, stone stairways and gardens filled with colours. Here, mountains slope vertically into the deepest part of the lake, which reaches to a depth of 410 meters (1200 ft).
If you are culturally oriented you can also visit other sites of artistic interest, such as the basilica of San Giacomo, dating back 12th century, the Romanic San Giorgio and San Martino and the baroque San Giovanni. The Lake Como ferry service is a highly developed public transport system linking the dozens of small towns and villages dotted around the perimeter of the Lake. A tour of the lake by boat will allow you to experience its beauty from a unique point of view. Also, night cruises are available, allowing you to enjoy dinner while the lights from the shore reflect on the glassy surface.
Como Lake is also a favourite destination for people who like water sports, from windsurfing, sailing to water skiing. Here, the wind "Breva" helps all the nautical disciplines.
Do not forget to include a couple of days in this wonderful area in your Italian trip. We will be glad to suggest how to make your visit an unforgettable experience.